Regular price
Sale price
$24 -
Unit price
per
Sale
Sold out
Superior Stability & Support: 💪 Experience superior balance and stability with our high-density cork block, perfect for all your poses.

Hygienic & Safe: 🛡️ Opt for a naturally anti-microbial yoga environment with our easy-to-clean EcoBlock.
Sustainable & Earth-Friendly: 🌍 With the EcoBlock's sustainably harvested cork, you're choosing a practice that respects the Earth.
Versatility in your Asana: 🤸‍♀️ Suitable for all types of yoga, the EcoBlock is your versatile prop for a more advanced practice.
Durable & Long-lasting: ⏳ Invest in your yoga future with our durable and long-lasting EcoBlock.
Travel-friendly: ✈ Weighing just 2 pounds, let the EcoBlock accompany you wherever your yoga journey takes you.
Features

Sustainable: Made from 100% natural FSC certified cork, an eco-friendly and renewable resource.

Durable: Built to last, maintaining its shape and integrity even with regular use.

Supportive: Provides stable support and grip during your yoga practice.

Non-slip Surface: The natural cork material ensures excellent grip and slip resistance.

Versatile: Ideal for various yoga styles and levels, assisting in deepening poses and increasing flexibility.

Easy to Clean: Cork's natural antimicrobial properties help resist odors and can be easily wiped down with a damp cloth.
Dimensions

Standard: 9" x 6" x 4"

Weight: 2 lbs
Materials

Made from renewable resources harvested sustainably without harming the trees.

100% FSC certified cork
Care Instructions

Clean: Gently wipe down the surface with a damp cloth after each use to remove any sweat, dirt, or oils.

Avoid: Refrain from using harsh chemicals or abrasive materials to clean the block, as they can damage the cork surface.

Dry: Allow the block to air dry completely before storing it away. Keep it out of direct sunlight for extended periods, as it may cause fading or warping.

Store: Place the EcoBlock in a cool, dry area, away from extreme temperatures or humidity.
Share
View full details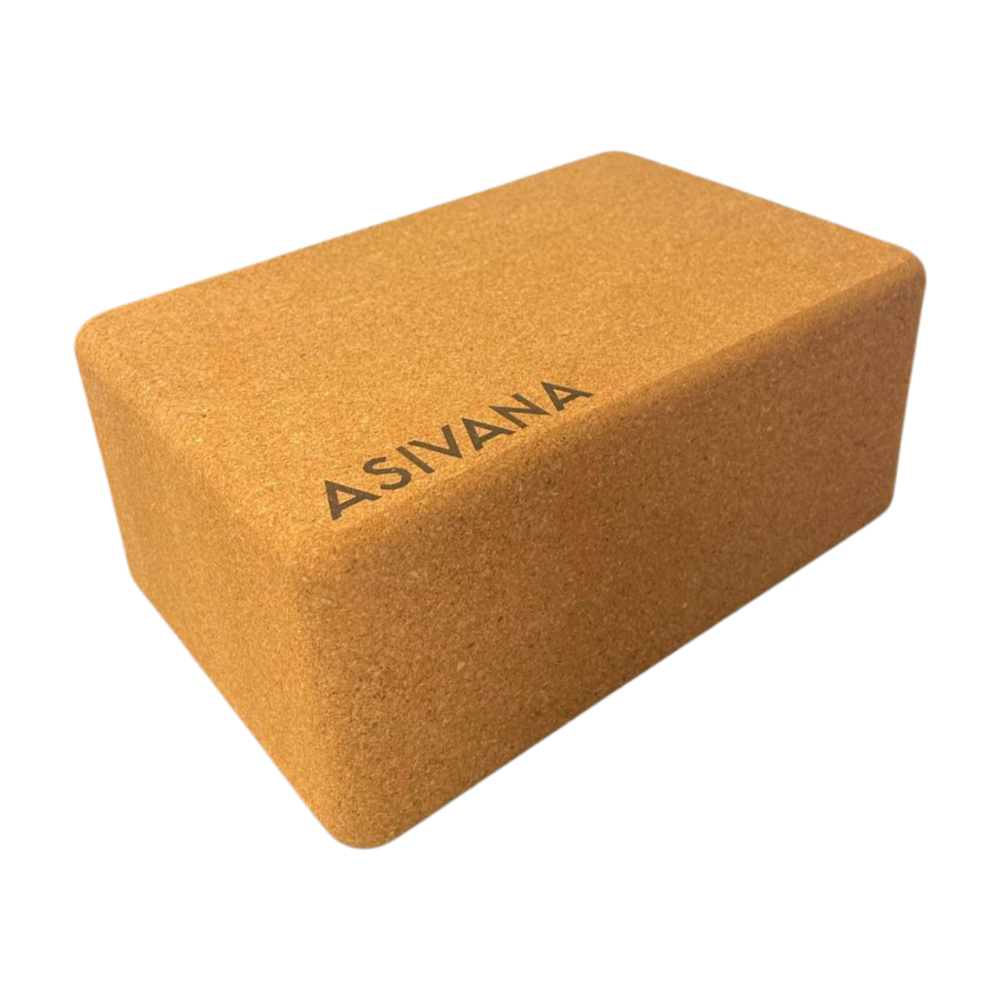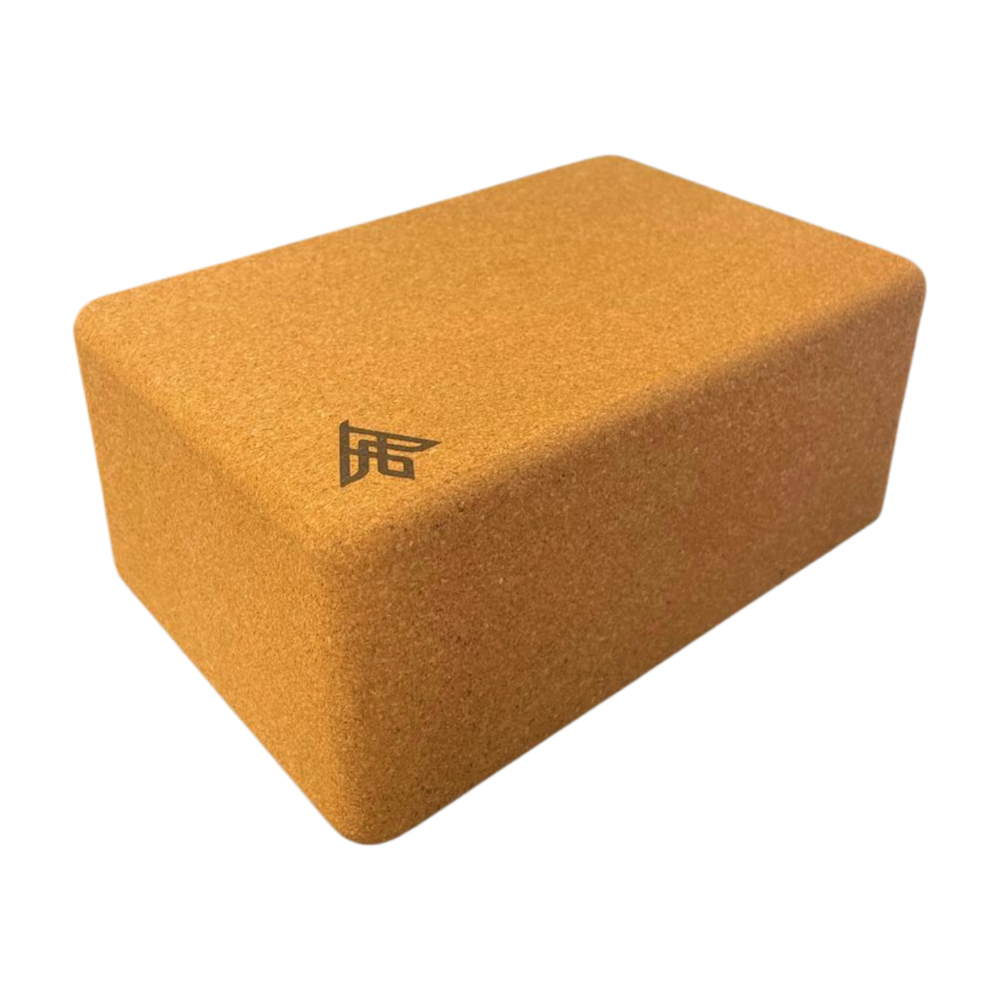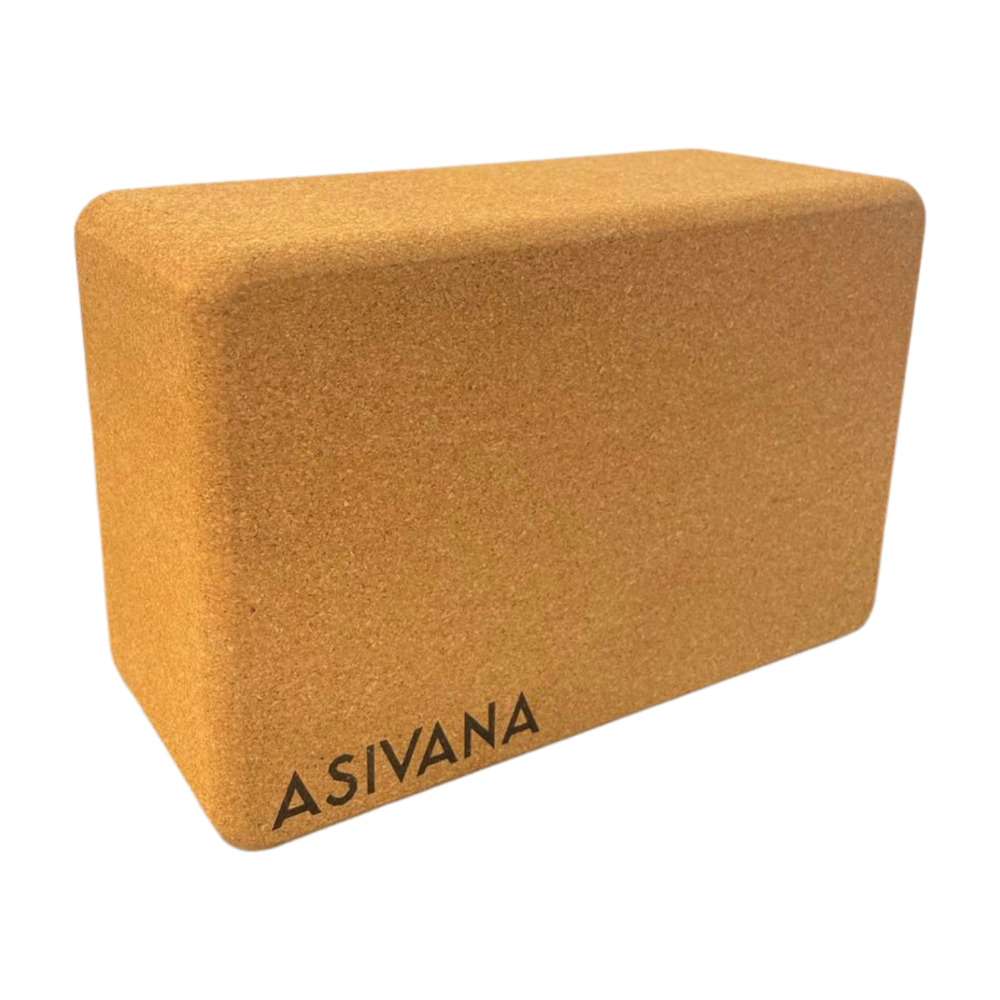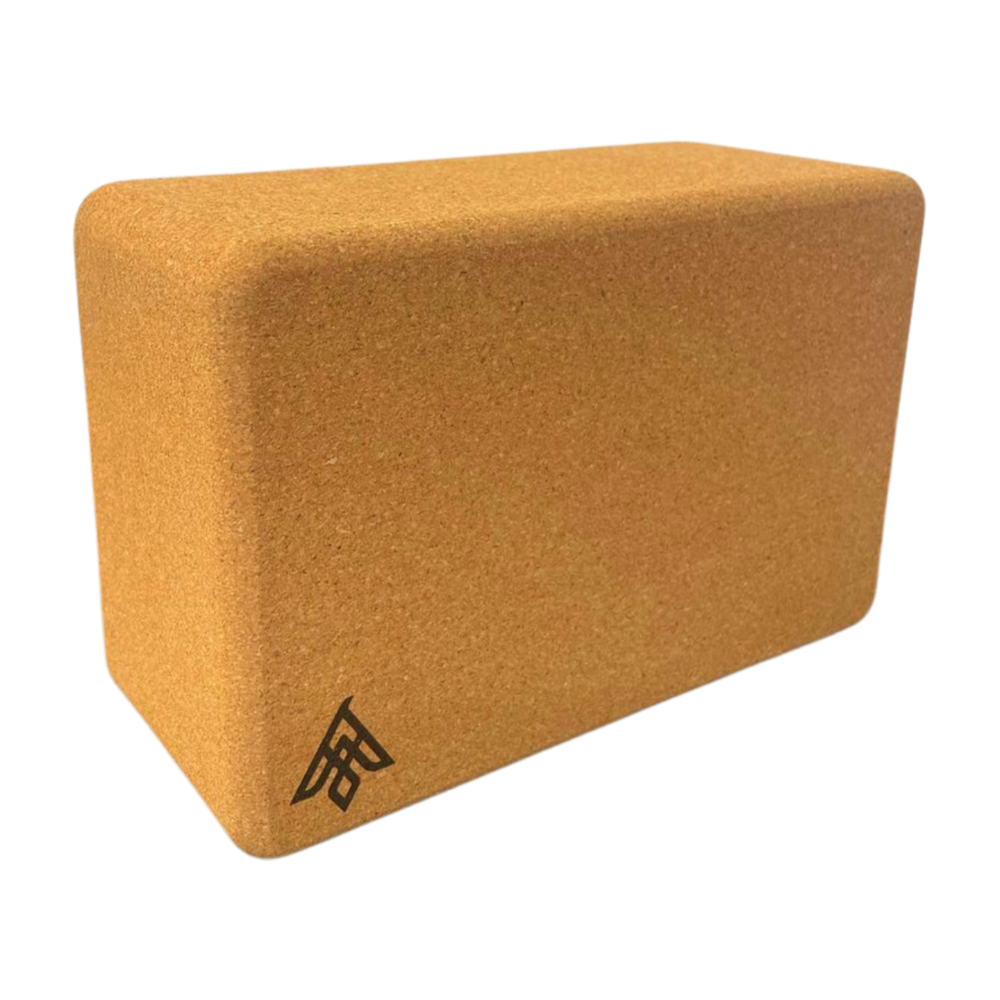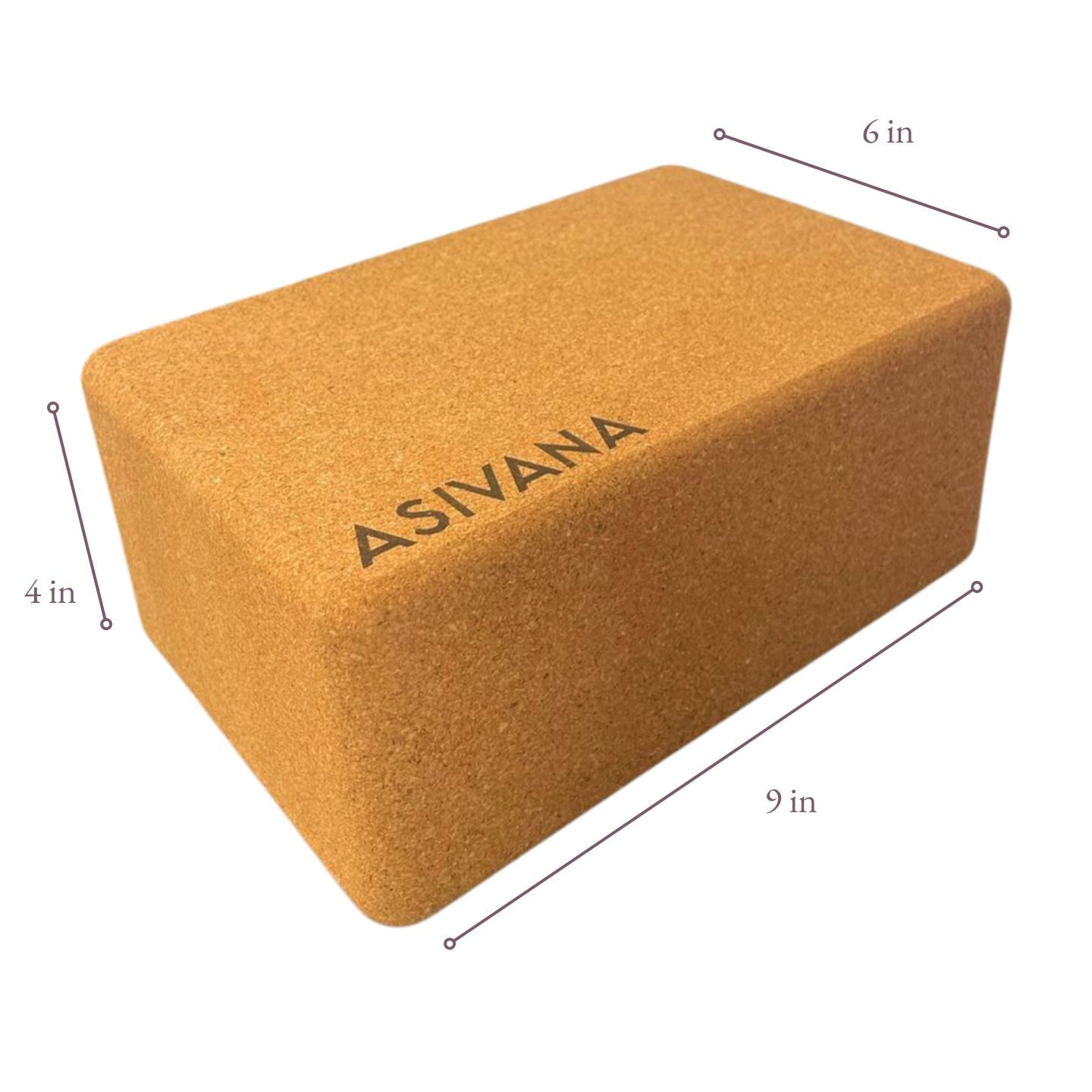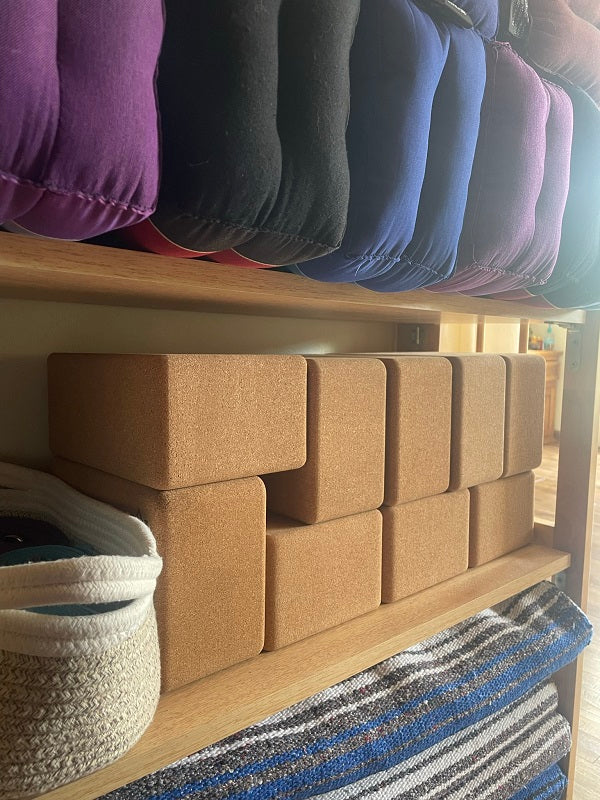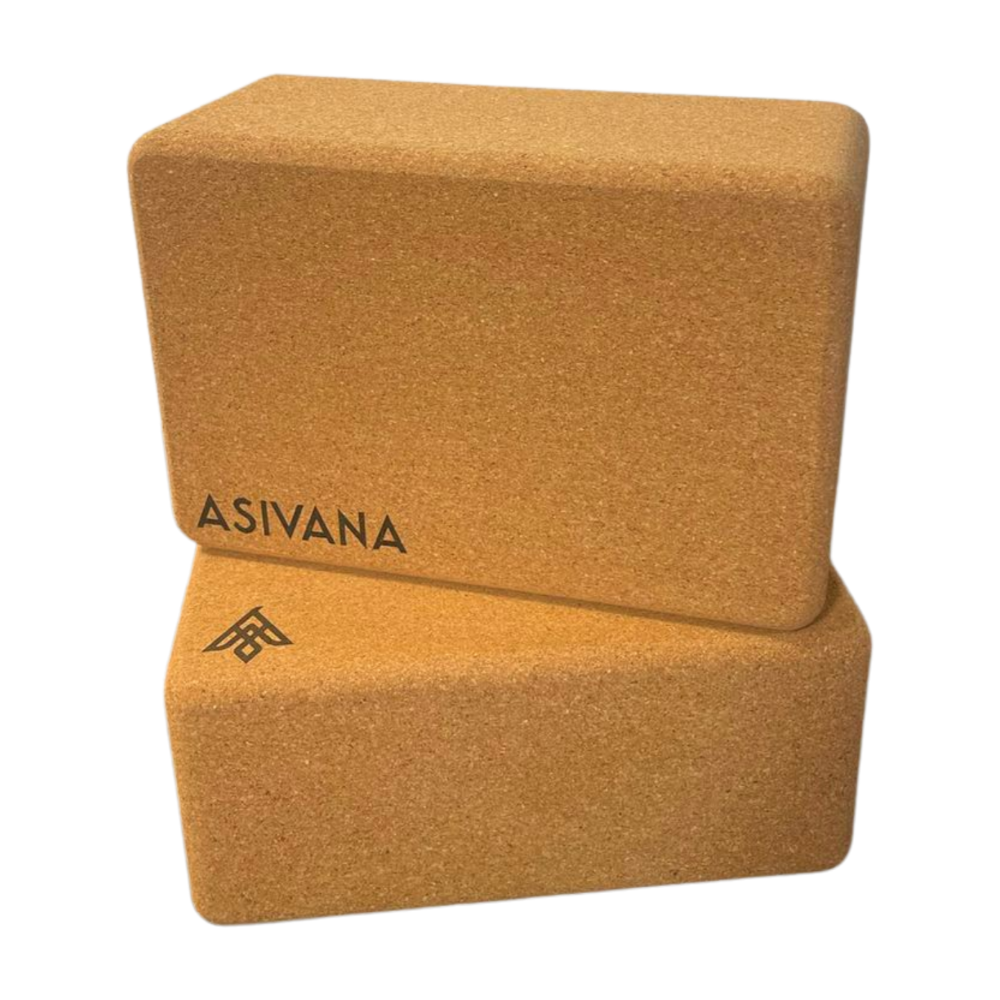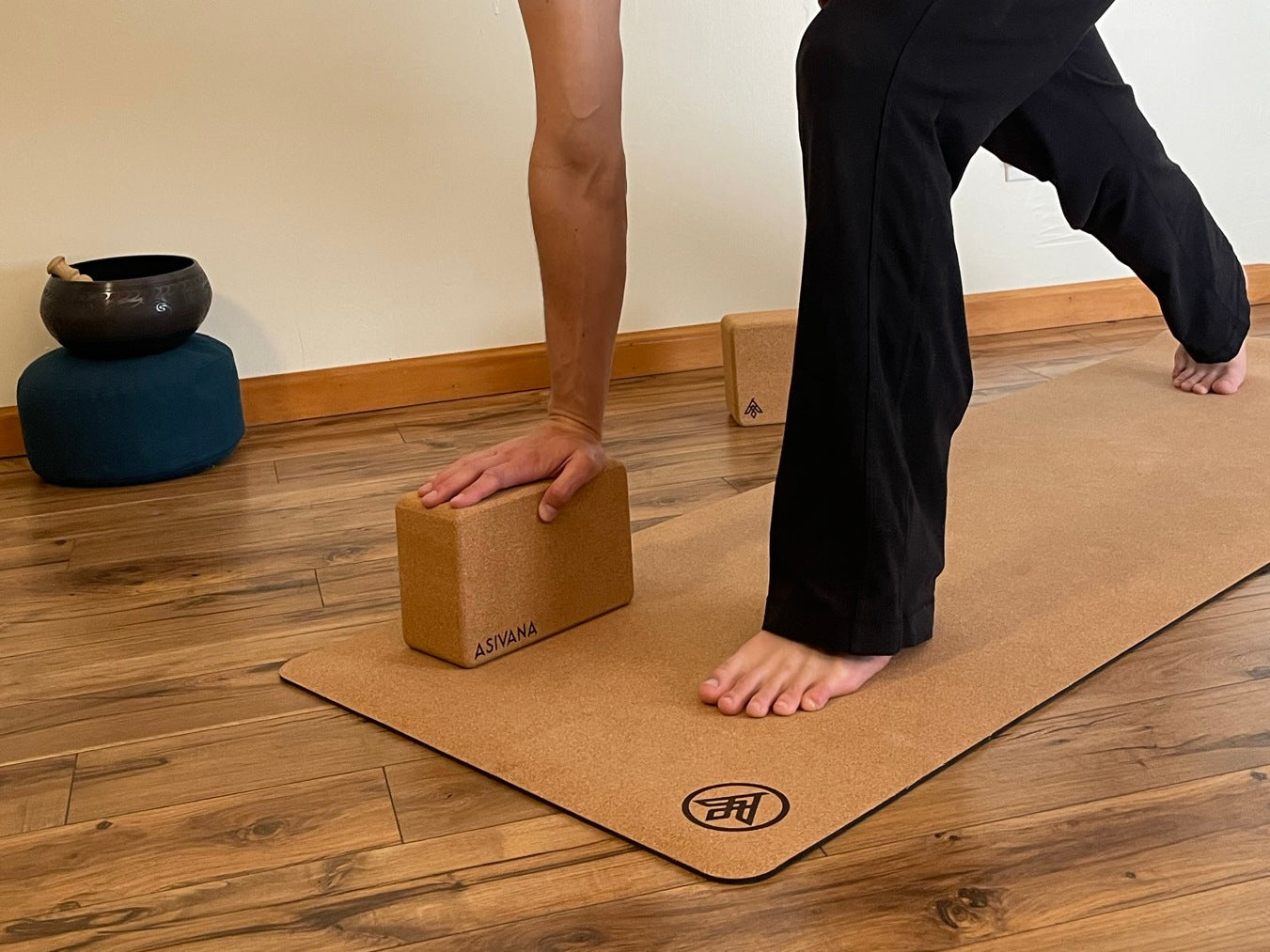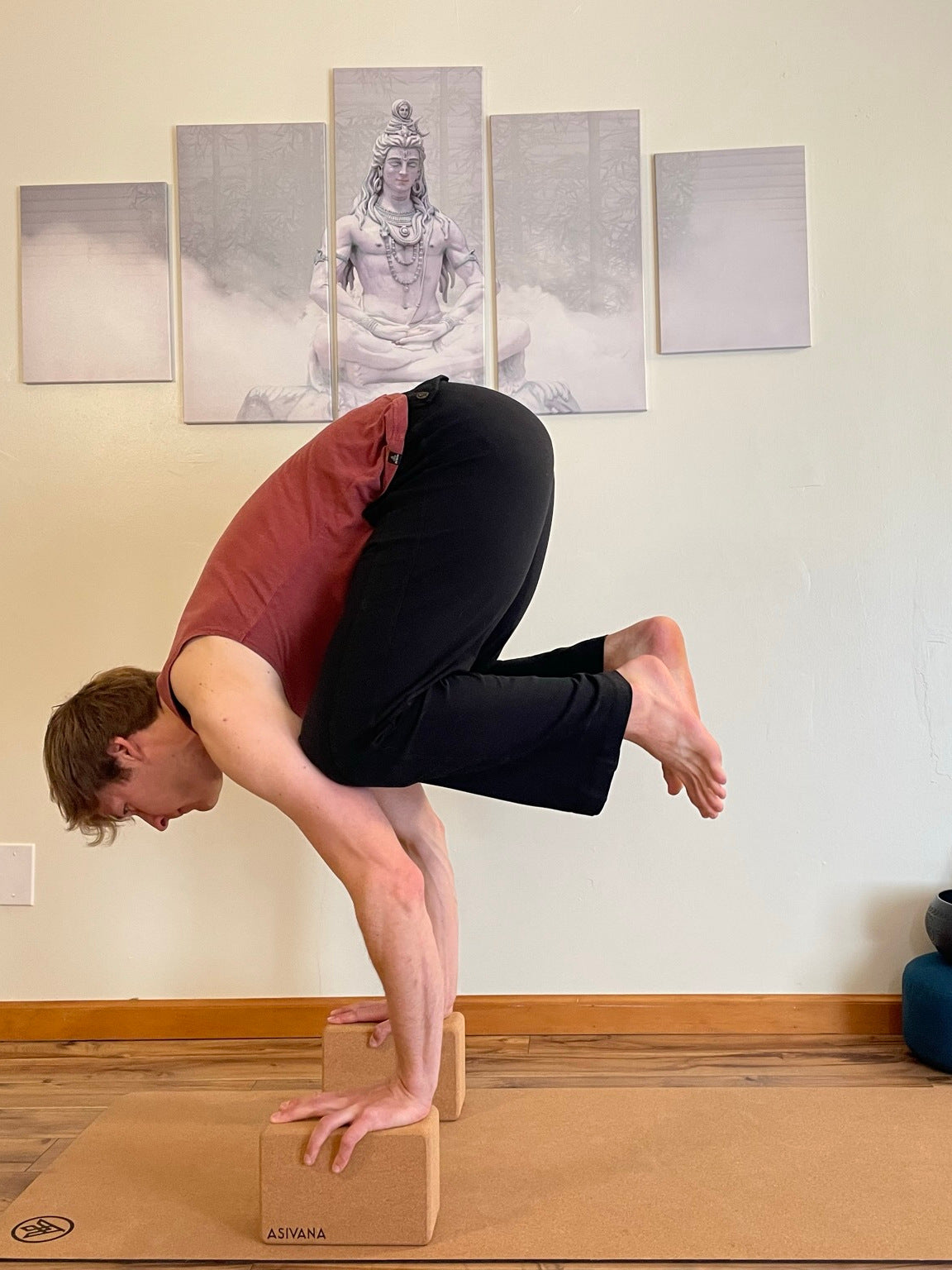 Practice with Confidence
A harmonious blend of functionality and sustainability, providing the stability and hygienic surface you need.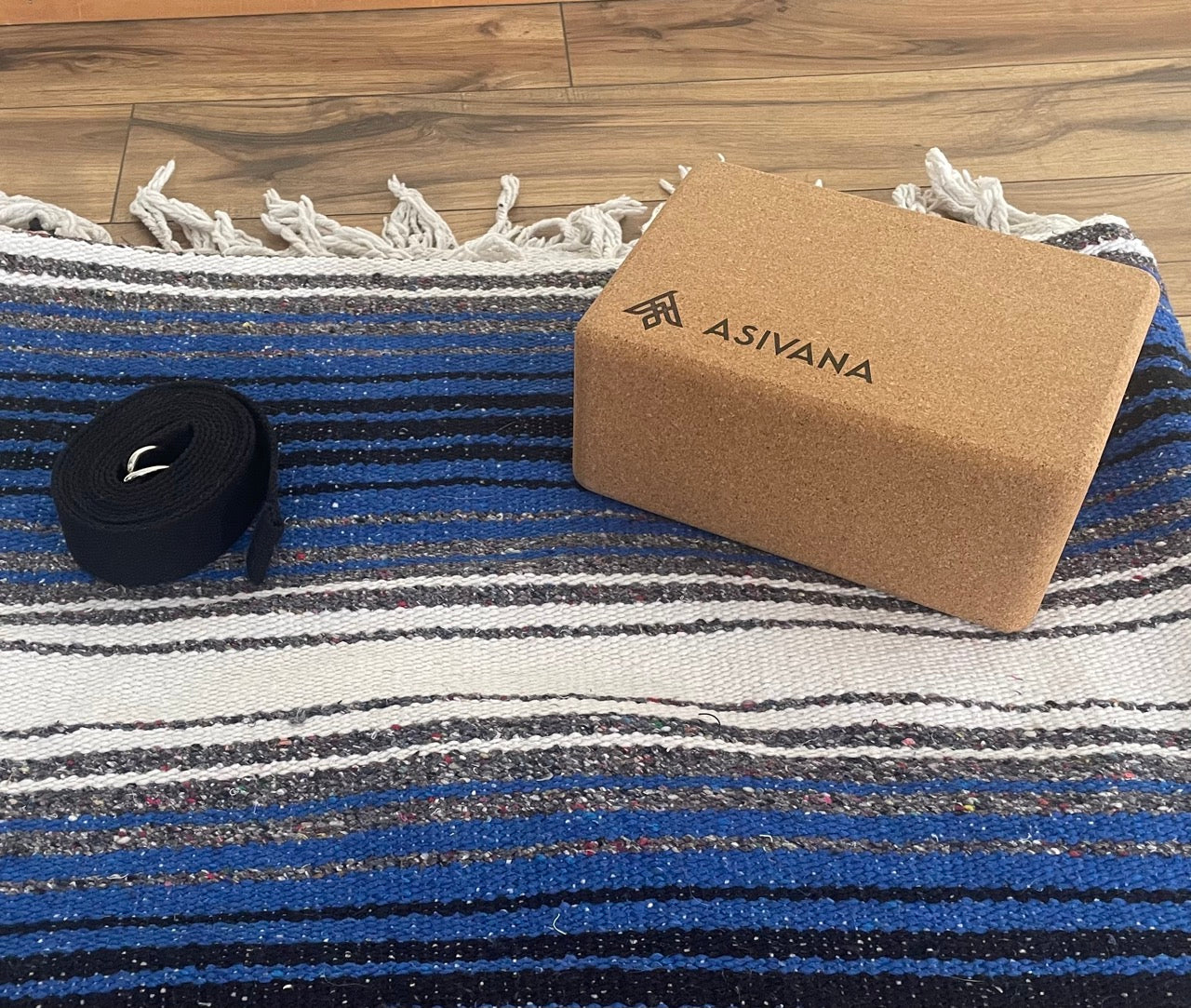 Your Fundamental Foundation
Asivana's EcoBlock is not just another yoga accessory, but a foundational component of your yoga journey.
Offering stability and support, it helps you master the basics and beyond, whether you're just starting or looking to refine your skills. With the EcoBlock, you can build a solid foundation for a lifetime of yoga.
Experience a stronger and more confident practice with Asivana's EcoBlock at the base of your yoga journey.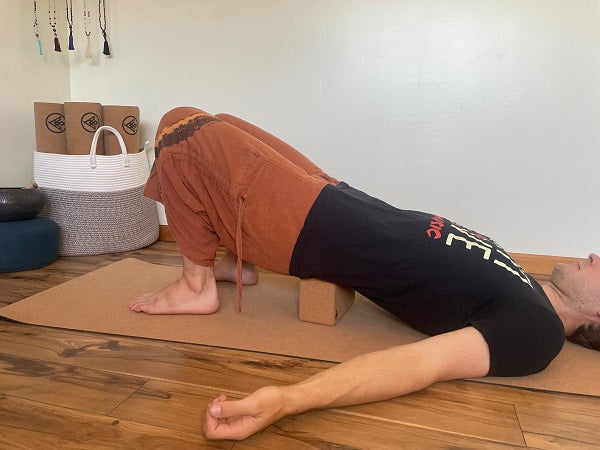 Level Up Your Yoga Practice
Accelerate your journey towards yoga mastery with Asivana's EcoBlock.
This yoga block is more than just a prop; it's a tool that aids in proper alignment, helps you achieve deeper stretches, and makes challenging poses more accessible. As you continue to grow in your yoga practice, the EcoBlock will be there to support you every step of the way.
Elevate your practice and reach new heights with Asivana's EcoBlock.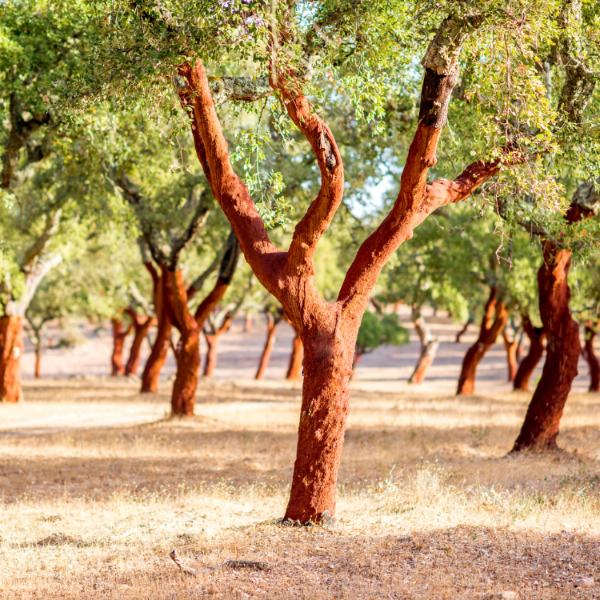 Embrace Your Ahimsa
Ahimsa, or non-harming, is a fundamental principle in yoga philosophy, and the Asivana EcoBlock helps you embrace it in your daily practice.
Crafted from sustainably sourced FSC certified cork, ensuring that no trees are harmed in its making. Choosing this cork yoga block means choosing a product that aligns with your values, one that respects and protects our environment.
Practice Ahimsa in your yoga with the Asivana EcoBlock.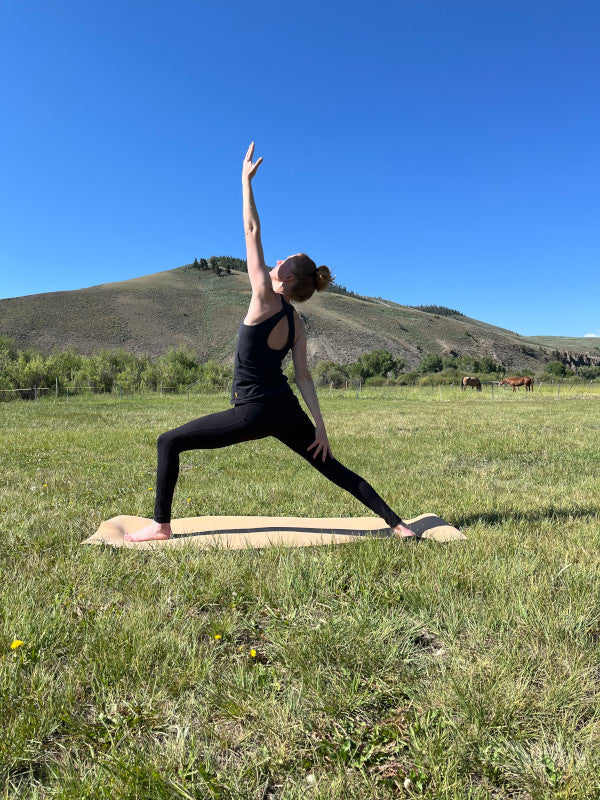 Versatility in Your Asana
Experience versatility like never before in your asana practice.
The EcoBlock design and dimensions lend themselves to a variety of yoga poses, expanding your range and enabling greater flexibility. Be it seated poses, standing poses, or even restorative yoga, the EcoBlock can adapt to your needs, helping you to deepen your practice and explore new postures.
Add a dash of versatility to your yoga classes with Asivana's EcoBlock.
Stability for your Practice
Foundation for Mastery

Purifying in Practice

Practice with Purpose
Smooth Edges, Smooth Transitions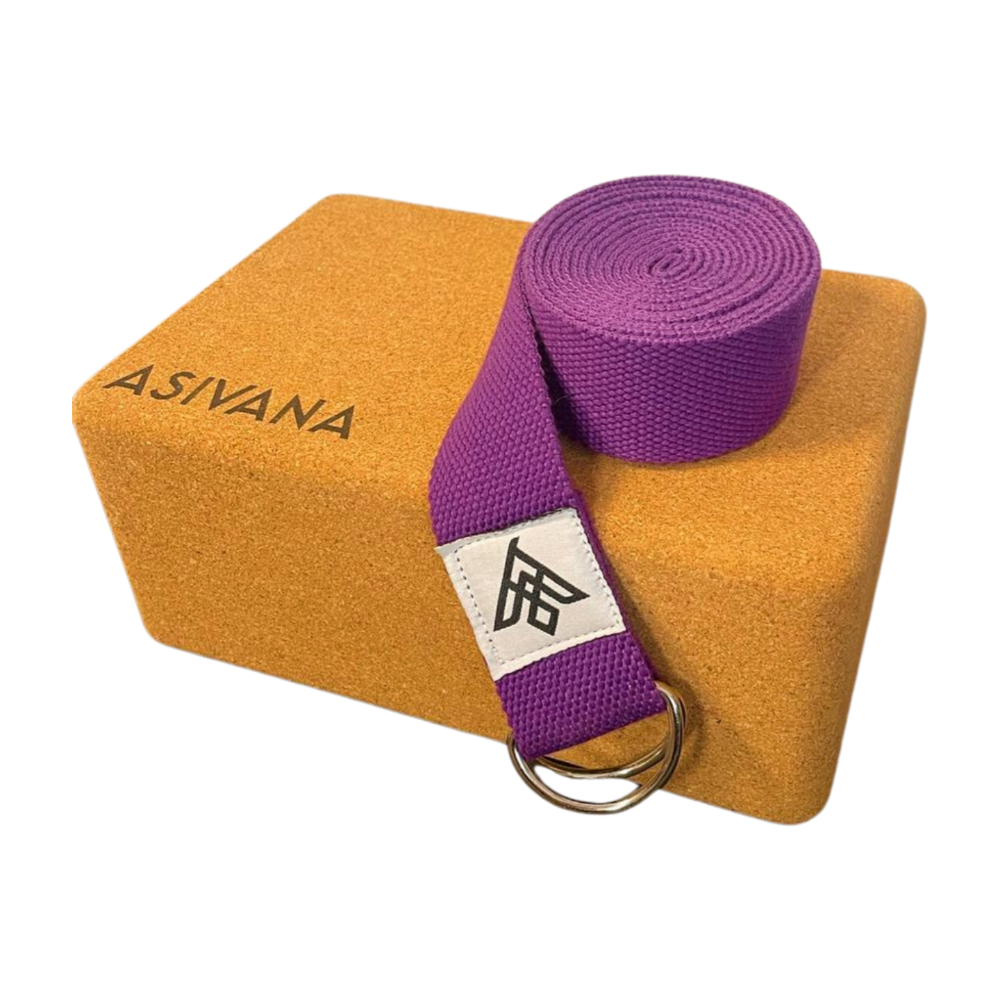 Your Solid Partner for Stability

Experience true stability and support with the Asivana EcoBlock. Our cork yoga block's design has been carefully crafted to provide optimal support in your yoga journey.

Its naturally grippy texture ensures that the block stays secure, offering reliable stability in every asana, whether you're mastering a challenging pose or seeking a deeper stretch.

With the EcoBlock, embrace the confidence that comes with unwavering support and move towards mastery in your practice.
Hygienic and Anti-microbial

Maintain a clean and healthy yoga practice with our EcoBlock.

Crafted from cork, a material naturally resistant to bacteria and microbes, this yoga block helps safeguard you from exposure to harmful bacteria. Plus, its easy-to-clean surface means you can quickly refresh your block after each class, ready for the next.

With the EcoBlock, you can focus on your yoga journey, knowing that we've got hygiene and health covered.
Certified Sustainable Materials

The Asivana EcoBlock reflects your commitment to sustainable living.

Made from FSC certified sustainably harvested cork, our cork yoga block ensures your yoga practice aligns with your eco-conscious lifestyle. Cork production actively supports biodiversity, so you're not just minimizing harm—you're actively contributing to a valuable ecosystem.

Every time you use our EcoBlock, you're making a statement about your dedication to sustainability, deepening the connection between your yoga practice and your respect for Mother Earth.
Natural Earthy and Grippy Texture

The EcoBlock isn't just about stability, hygiene, and sustainability—it's also about your comfort.

With its rounded edges, this yoga block is designed to be easy to grip and gentle on your hands, providing a comfortable and secure hold during your practice. Plus, the block's natural cork texture provides an earthy, warm touch, enhancing your connection with nature.

Add the EcoBlock to your yoga routine and experience how comfort can truly elevate your practice.
Durability for the Journey

At Asivana, we believe your yoga tools should be as resilient as you are. That's why we've designed the EcoBlock for durability.

Made from high-quality cork, this yoga block is incredibly sturdy and resilient, providing you consistent support over time. Its robust structure can withstand the rigors of any yoga practice—from gentle stretching to more dynamic sequences.

With the EcoBlock, you're investing in a yoga block that stands the test of time, just like your commitment to yoga.
Frequently Asked Questions
Does the cork material get slippery when I sweat?

The unique beauty of our EcoBlock is that cork is a naturally absorbent material, which means the more you sweat, the grippier it gets! So rather than getting slippery when wet, it actually adheres better to your hands, feet, and various surfaces, enhancing your practice by providing a safe and stable platform. Plus, moisture does not harm cork, ensuring your EcoBlock is built to last.
How does the EcoBlock differ from foam yoga blocks?

The EcoBlock stands head and shoulders above standard foam blocks in terms of sustainability, durability, firm support, superior grip, and anti-microbial properties.

The EcoBlock provides a firm and steady foundation to help you build strength and balance in your poses. It's also good for the environment, made from sustainably harvested cork, and lasts longer due to corks superior durability.
How do I clean and care for the EcoBlock?

Caring for your EcoBlock is a breeze. Simply wipe it down with a damp cloth after use.

For a deeper clean, you can use a mild soap or an essential oil mix.
Is the EcoBlock suitable for all types of yoga practices?

Absolutely! The EcoBlock is a versatile prop that is suitable for all styles of yoga - from hot yoga to yin yoga, hatha to restorative, and everything in between.

Its superior grip and stability make it an essential companion for your practice, no matter your style or level of experience.
Can I travel with the EcoBlock, is it portable?

Yes, you can!

While the cork does make the EcoBlock a little heavier (2lbs) than foam alternatives, it is still light enough to travel with you wherever your yoga journey takes you.

Its durability ensures it stands up to the rigors of travel, and compared to other cork blocks, our EcoBlock is on the lighter side.
Is the EcoBlock cork yoga block comfortable for restorative poses?

For most poses, the EcoBlock provides fantastic support due to its firm structure.

While the cork does have some give, it could potentially feel too hard in certain poses. However, this can easily be remedied by covering the block with a blanket, allowing you to maintain firm support while adding some extra cushion for comfort.
How can a yoga block help improve my practice?

A yoga block is a versatile tool that can be transformative for your practice.

Cork yoga blocks "bring the floor to you", allowing you to explore poses with proper alignment, aiding in flexibility, and promoting better posture.
How long does a cork yoga block last?

Cork yoga blocks are renowned for their durability.

With regular cleaning and proper care, your EcoBlock could last for decades. And when it's finally ready to retire, the cork material can either be recycled or buried to biodegrade.
Can using a yoga block help prevent injuries?

Indeed, a yoga block like our EcoBlock can play a key role in injury prevention.

By providing support and promoting proper alignment, it can help you safely deepen your practice and approach challenging poses without overstraining your muscles or joints.
Experience superior balance and stability with our high-density EcoBlock Cork Yoga Block, perfect for all your yoga poses. This eco-friendly yoga block is a testament to sustainable yoga props, crafted from 100% natural FSC certified cork, an earth-friendly choice for your yoga practice. The EcoBlock is not just a versatile yoga prop but also a durable cork block that maintains its shape and integrity even with regular use. Its antimicrobial, non-slip surface ensures excellent grip and slip resistance, making it an essential part of your hygienic yoga environment. Whether you're looking to enhance your yoga poses or choosing eco-friendly yoga accessories, the EcoBlock Cork Yoga Block is your ideal companion. Discover the benefits of using a cork yoga block and elevate your practice today!