Regular price
Sale price
$90 -
Unit price
per
Sale
Sold out
Perfect Grip & Texture: Your stability, enhanced. Whether you're sweating through a tough flow or holding a gentle pose, this cork mat grips even better when wet. You can focus on your practice, knowing your mat has got you.
Aesthetically Pleasing Design: Unroll a unique expression of nature's beauty every time you step onto your cork mat. It's not just visually appealing; it's a connection to the natural world.
Comfort for Your Body: Your joints, cushioned. Your mind, at ease. Dive into your practice with a cork mat that yields to your body without losing its grounding, supportive feel.
Hygienic & Easy to Maintain: Simple and clean, just like your practice. Your cork mat is anti-microbial and is effortless to care for not to mention it's hypoallergenic! Your wellness journey, simplified.
Built to Last: Invest in yourself with a cork mat that's as durable and resilient as your spirit. This isn't just a mat; it's a partner in your health, wellness, and fitness.
Sustainably Sourced Cork: Feel a connection to Earth with FSC™ Certified cork & natural rubber. It's more than just a mat; it's a commitment to sustainability and conscious living.
Experience the Flux difference 💫 – Order your cork yoga mat today!
Features

Durable high abrasion resistance.

Superior Grip that increases with moisture and use. 

Stability and Support balanced density providing joint protection. Soft cushioned cork top and shock-absorbent natural rubber bottom layer.

Antimicrobial and non-toxic with closed cell structure making the mat easy to clean.

100% Sustainable Materials FSC certified sustainably harvest cork and produced with low energy consumption.
Dimensions

Standard: 72" x 24"

Thickness: 5mm

Weight: 7 lbs.
Materials

Made from renewable resources harvested sustainably without harming the trees.

100% cork top layer (FSC certified)

100% natural rubber bottom layer
Care Instructions

Clean using a gentle mist of a mild cleaning solution and wipe down the mat. Let air dry.

Avoid extended exposure to sunlight, extreme temperatures, and soaking in water. Air dry after every practice or cleaning.

Roll the mat with the cork facing outward to avoid creasing the cork. Cork will rebound after sitting flat if creased.
Share
View full details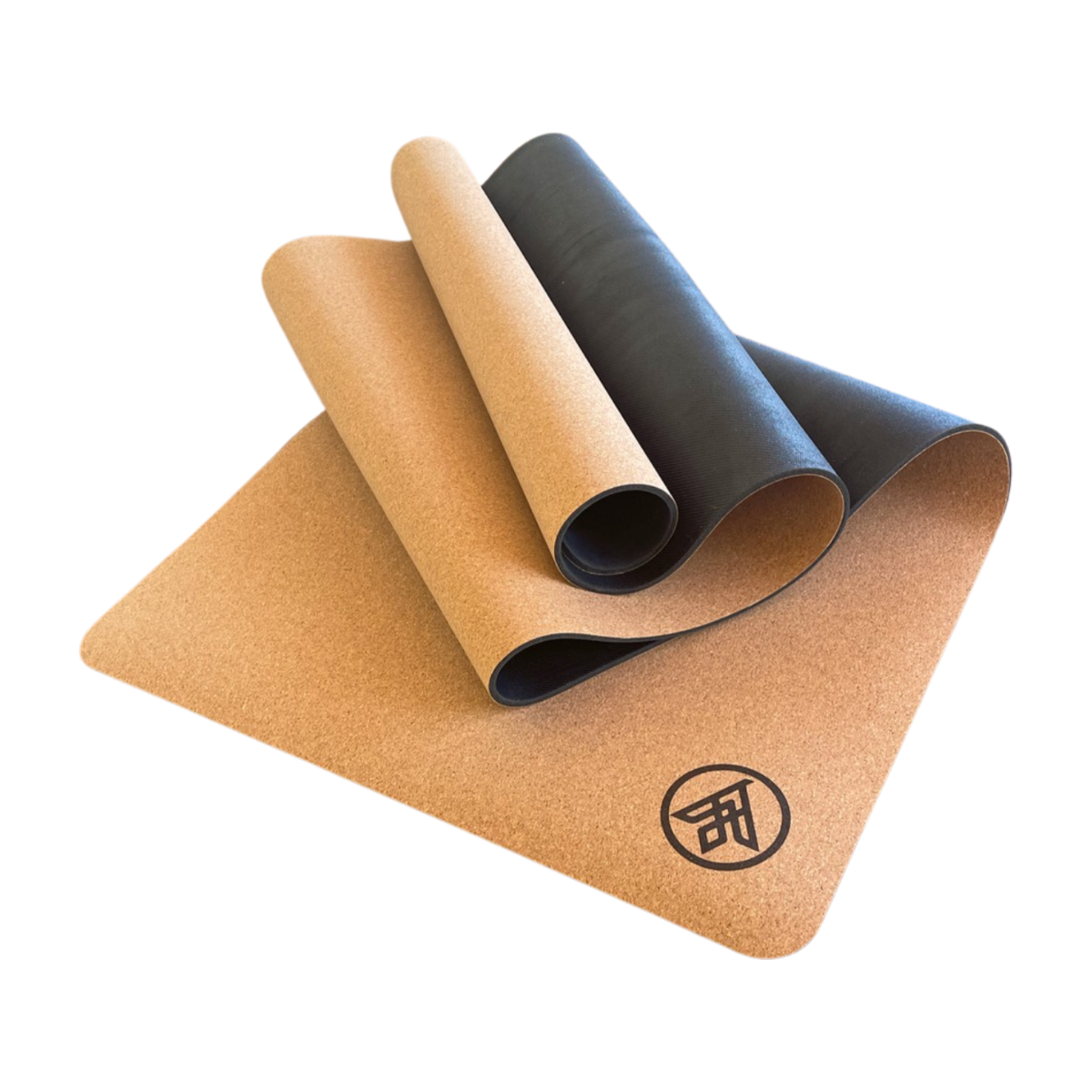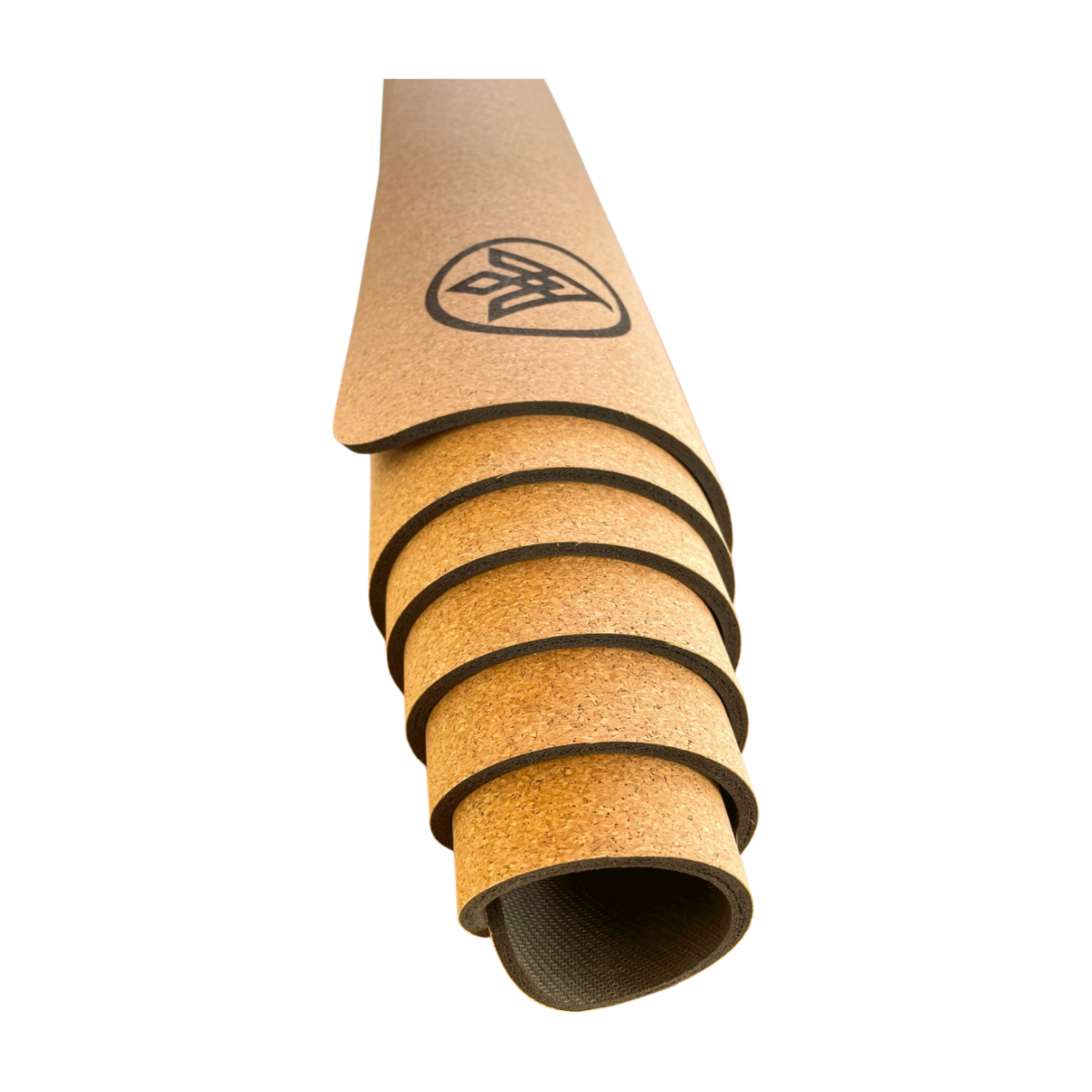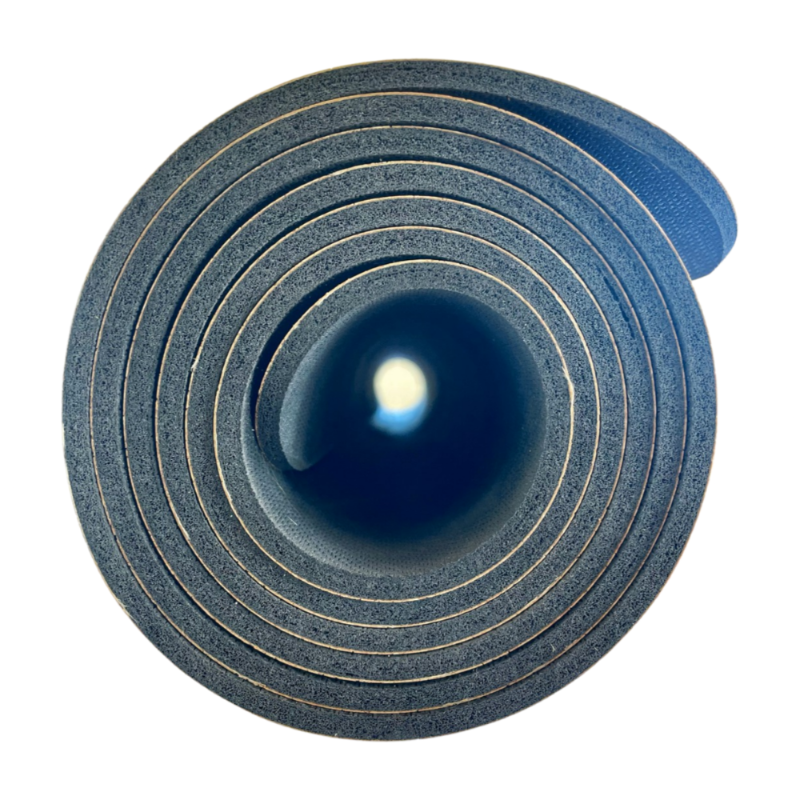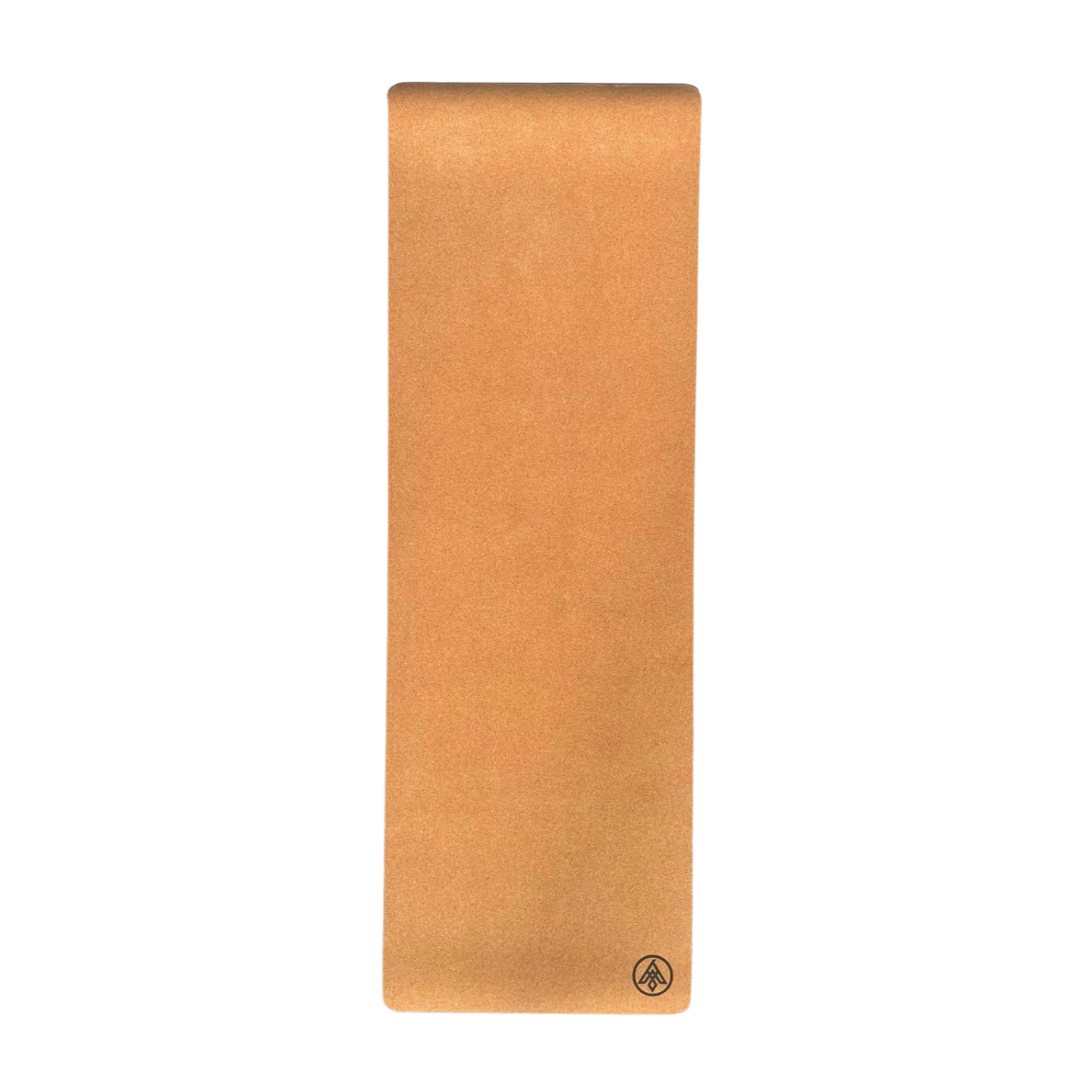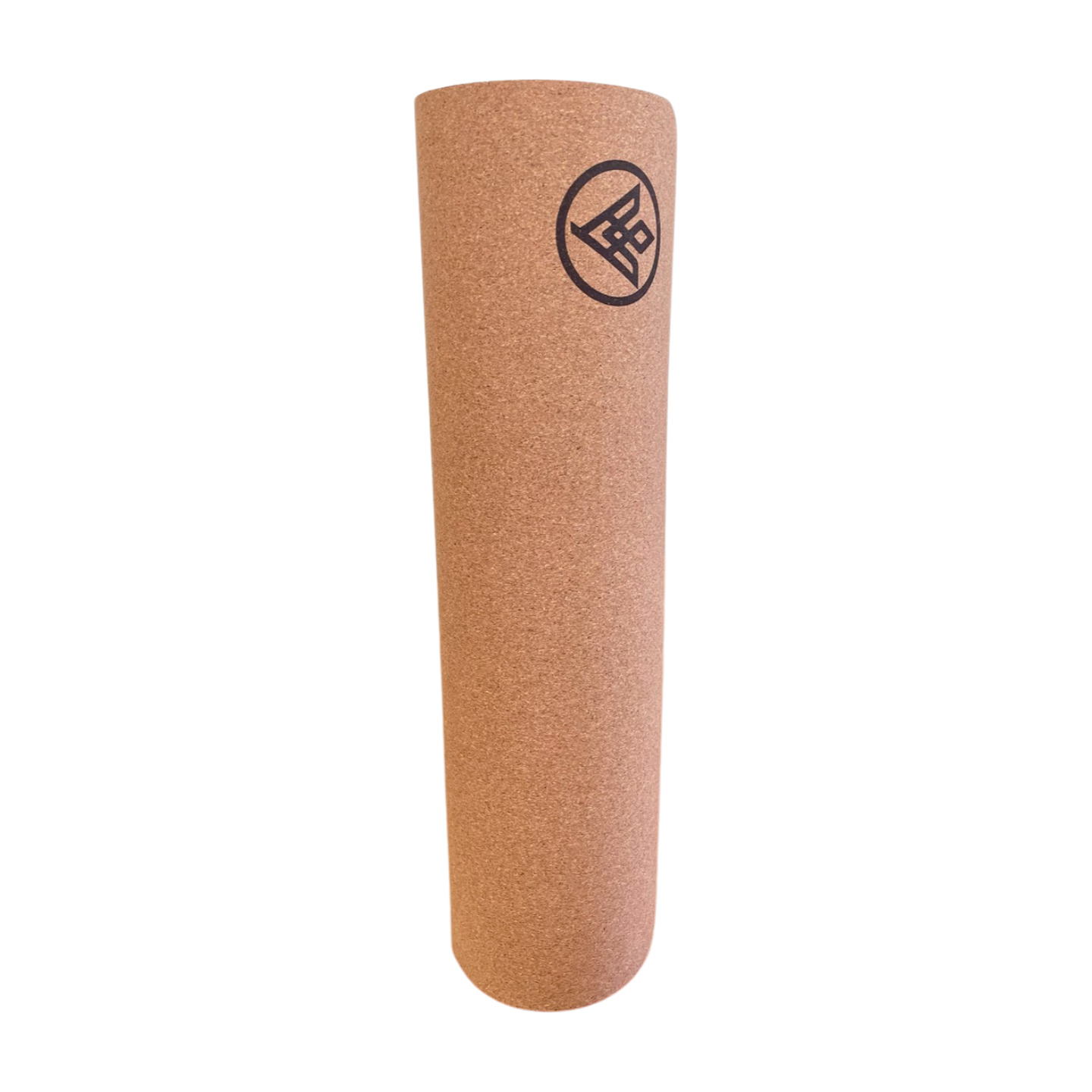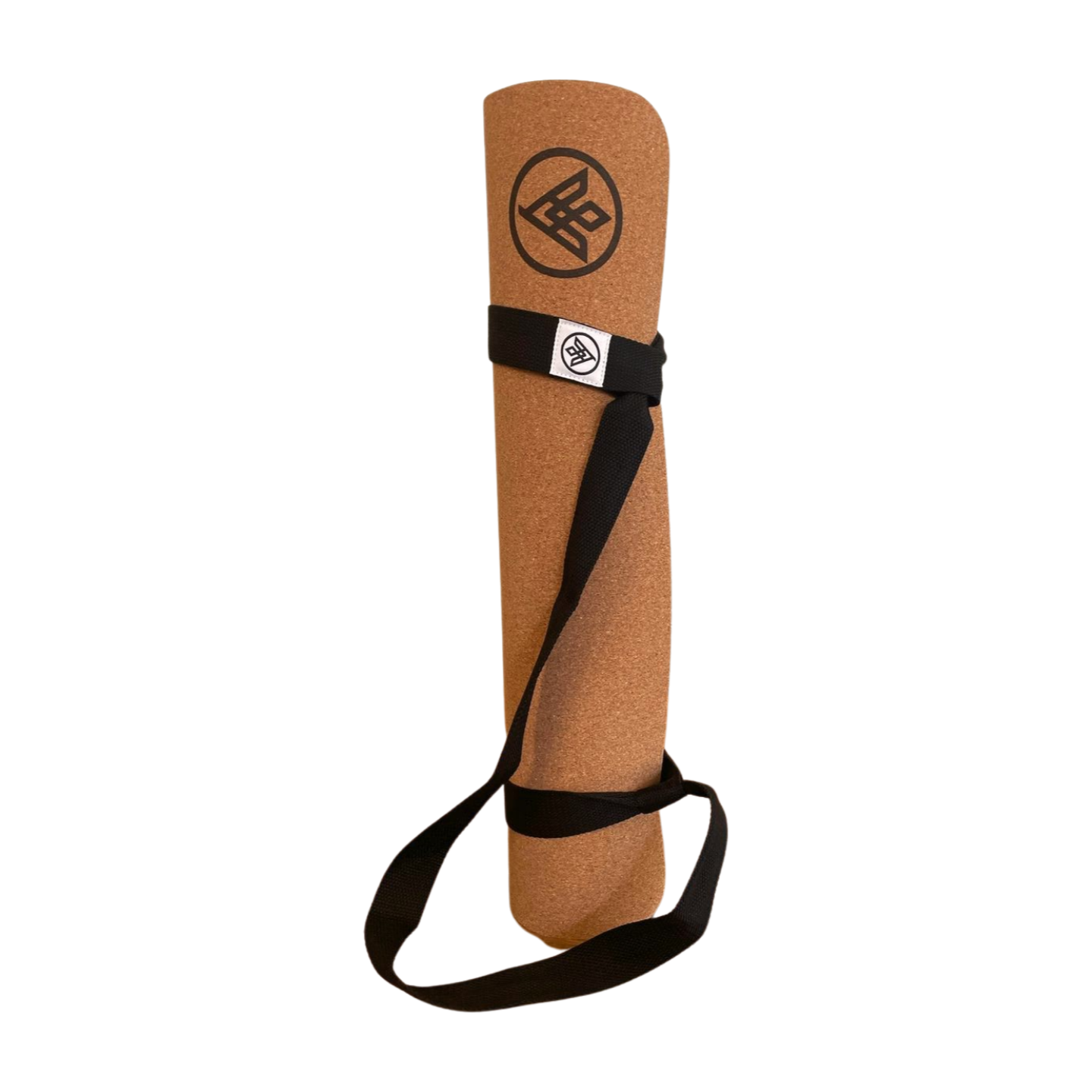 Testimonials
What appeals to me most about this mat is that it is environmentally friendly. Cork has been used by humanity for over 5,000 years. It's sustainable because the cork is not cut down to produce it; only the bark is stripped off the tree. It's nice-looking, and has a great feel and grip! Truth be told, a part of me likes the idea of using a product that is the same material as my wine stopper!
Rob Schware, Co-Founder, Co-Executive Director, The Give Back Yoga Foundation
Meet Niki

Niki has been a yogi for over 2 decades. She loves the natural cork's cleanliness and sustainability.

Listen on YouTube

Meet Katie

Katie is a daily meditator for most of her life. She loves that she can practice outdoors with her yoga mat.

Listen on YouTube

Meet Maksim

Max is a E-RYT 500 and IAYT certified yoga therapist. He loves the density and stability of his cork mat.

Listen on YouTube
Get into your flow
A seamless fusion of mind, body, and breath, grounding you in your practice.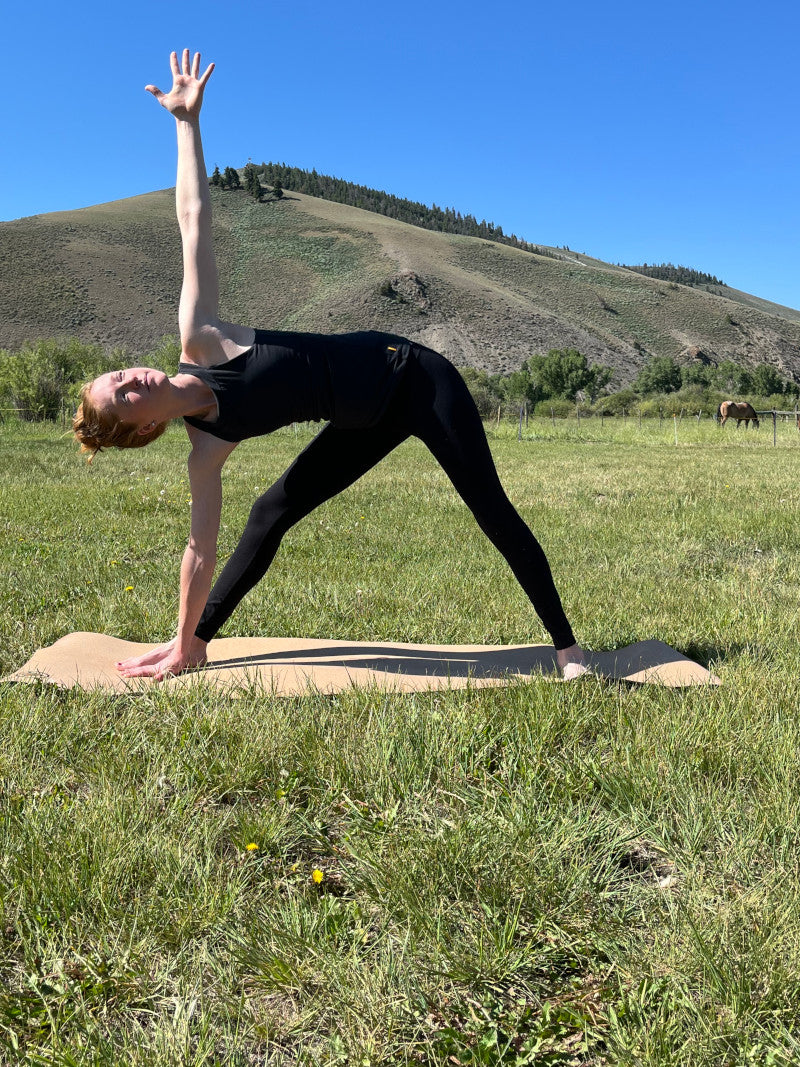 Firm Grip
Designed to give you the trust in every yoga pose. Our mat's superior non-slip grip provides you an exceptional hold during your most intense flows.
Feel your hands and feet steadily plant into the warm cork, creating a secure foundation that lets you extend, bend, twist, and balance with unwavering confidence. No more worrying about slipping, the Flux Cork Yoga Mat has you grounded.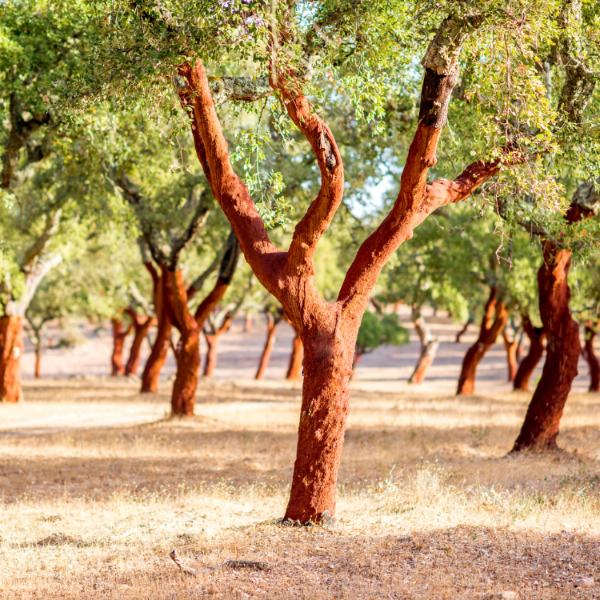 Eco-Symbiosis
Choosing the Flux Cork Yoga Mat is a declaration of your commitment to sustainability.
Each mat is crafted with FSC certified cork from Portugal and sustainably harvested natural rubber from Southeast Asia. Every decision in the creation process is aimed at reducing environmental impact and promoting a sustainable lifestyle.
With this mat, you're not just practicing yoga; you're becoming an active participant the natural process.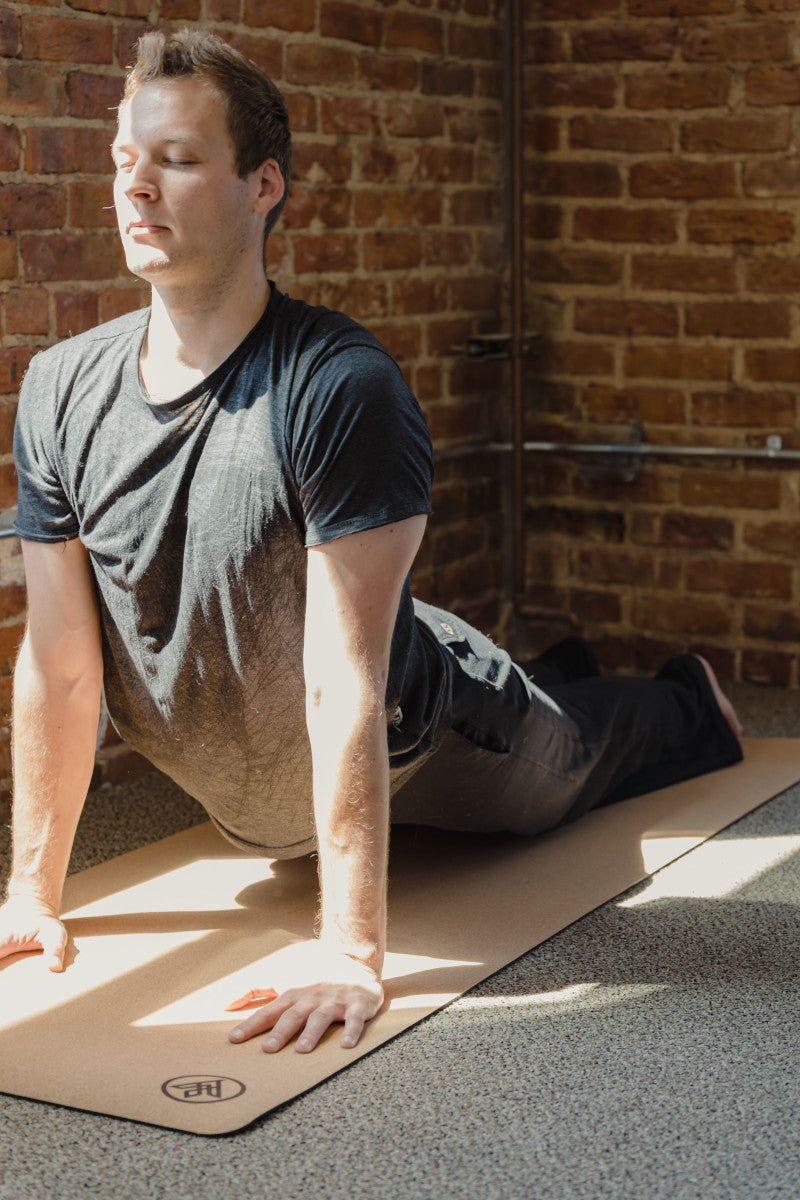 Favorite Yoga Style
Embrace the diversity of yoga with the Flux cork yoga mat.
Its versatile design suits all yoga styles, adapting to the unique demands of each pose and each practice. The natural anti-slip cork surface, coupled with a sturdy natural rubber base, provides a stable foundation for any pose, any flow, any style.
Expand your practice, explore new styles, and let your yoga mat adapt to your ever evolving journey.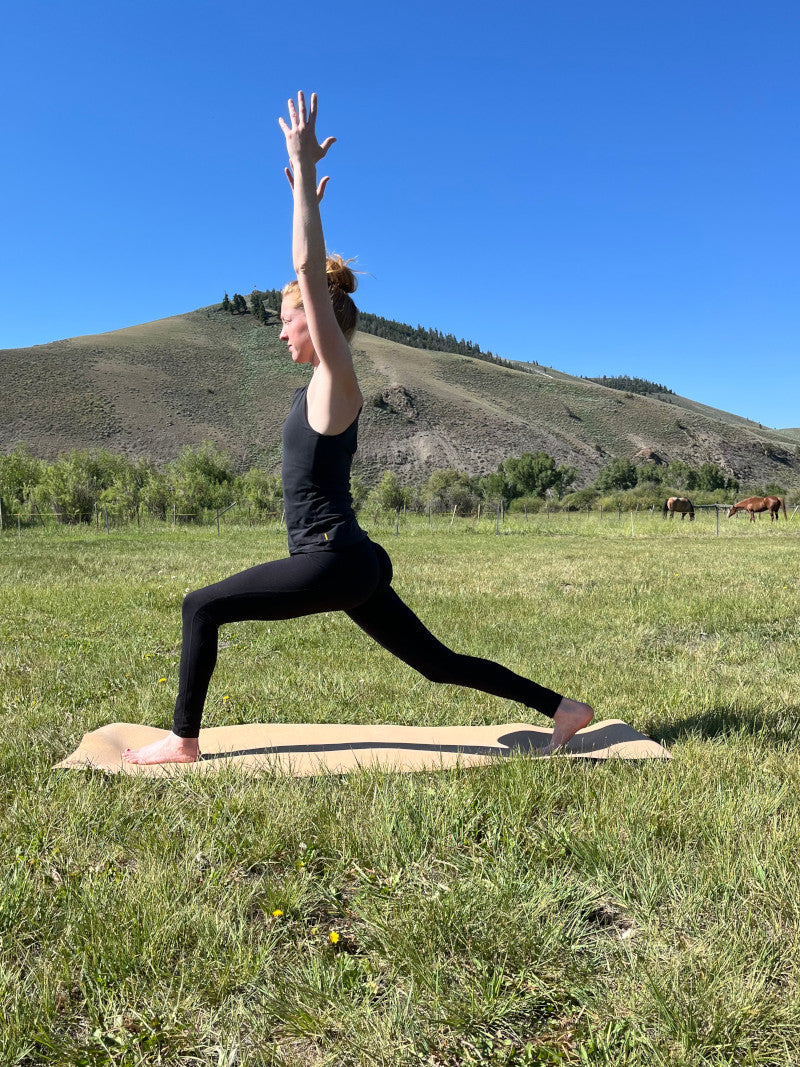 Power of Flow
The Flux yoga mat isn't just about holding poses – it's about movement, transition, and finding your own unique rhythm.
It's about embracing the flux and flow of your practice, and of life itself.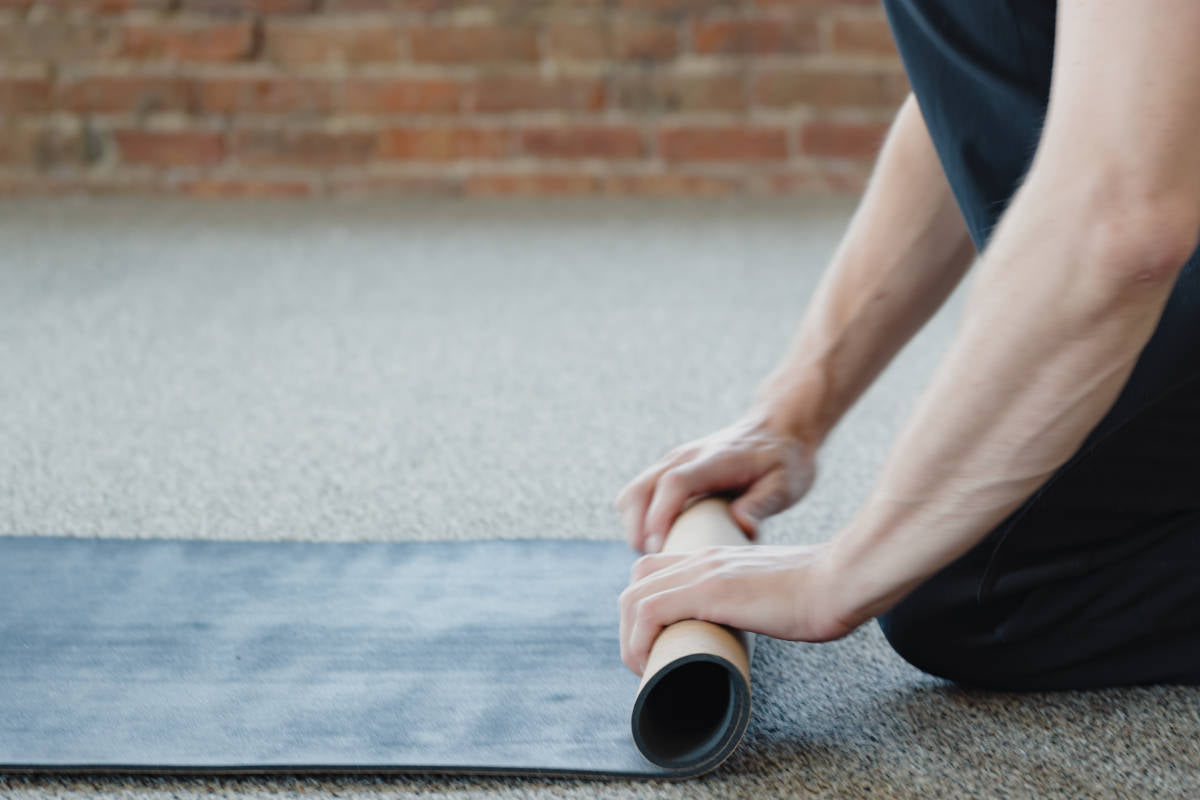 Yoga Journey
With the Flux yoga mat, you're not just owning another yoga mat - you're investing in your yoga journey.
Its lasting durability, supportive grip, and beautiful natural look will accompany your progress from one pose to the next, and from one level of practice to the next.
Awaken your Inner Hero, Yogi
Trust Your Grip

Sustainable Harmony

Durability for the Journey
Embrace Your Transformational Journey 🕉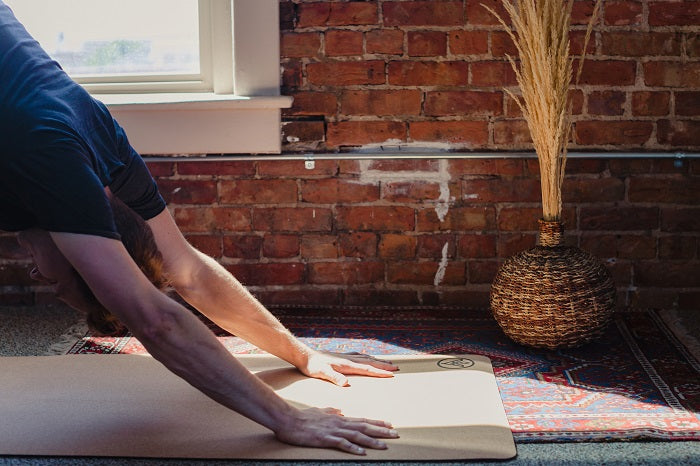 Versatility for all Yoga Styles

From serene hatha flow to power-packed vinyasa, from restorative poses to dynamic ashtanga, the Flux Cork Yoga Mat is your perfect partner.

Its unique composition offers unrivaled versatility for all yoga styles. The soft yet firm cork surface ensures comfort in seated and supine poses, while its excellent grip allows you to hold standing and balance asanas with confidence.

The mat's resilience makes it an excellent choice for advanced yoga styles that require high durability and comfort.
Unwavering Non-Slip Grip

The Flux Cork Yoga Mat offers exceptional grip, giving you a secure base for every pose.

Unlike traditional mats, your grip improves when cork is exposed to sweat or moisture, making it an excellent choice for hot yoga or intensive workouts.

The natural texture of the cork provides an organic, tactile feel under your hands and feet, ensuring your practice is steady, focused, and strong.
Sustainable by Design

The Flux Cork Yoga Mat underscores a commitment to sustainable living and mindful yoga practice.

Made from sustainably harvested cork and natural rubber, the mat reflects a conscious choice for environmental responsibility. The cork is FSC certified, ensuring that its production respects biodiversity, the rights of indigenous people, and sustainable harvesting methods.

In choosing the Flux Cork Yoga Mat, you are standing up for our environment and are contributing to a healthier, more sustainable future.
Anti-Microbial in Nature

Cleanliness is paramount in yoga, both for your practice and your equipment.

The Flux Cork Yoga Mat, with its naturally anti-microbial cork surface, offers a hygienic solution for your yoga journey. The antimicrobial properties of cork help repel bacteria, resist odors, and maintain a fresh mat environment.

It's a self-cleaning mat that lets you focus on your practice, even when you forget to wipe down your mat.
Withstand the Flux of Time

The Flux Cork Yoga Mat is designed for longevity.

The combination of natural cork and rubber not only offers superior comfort and grip but also ensures outstanding durability. The mat is resilient enough to withstand the rigors of regular practice over time, retaining its structural integrity and surface feel.

It's a mat that will journey with you, accompanying your progress from the first tentative asana to the mastery of complex sequences. Flux is here to stay, just like your dedication to yoga.
Frequently Asked Questions
What kind of yoga is the Flux cork yoga mat designed for? 

Our cork yoga mats are great for all types of yoga.

💪 Superior grip for active classes.

🧘‍♂️ Balanced and stable cushioning for more gentle classes.

🌞 A natural warm feel to touch for all classes.
How do I store my Flux cork yoga mat?

1. Roll your yoga mat cork side out.

2. Do not pinch or crease the cork layer.

3. Use a yoga bag and store indoors

4. Clean often and before any long-term storage.
How long can I expect my Flux cork yoga mat to last?

We have put in over 500 hours of hot yoga practice on a single mat. You will experience optimal performance for many years.

Cork is a tremendously durable material used in other long-term applications.

The intensity of your practice may increase the wear and tear but you can expect over 2000 hours of use. That's 2000 classes!
Does the Flux cork yoga mat come with a warranty?

We want you to have the best practice you can. You cannot do that if your mat is not functioning as intended to. We provide a warranty for our Flux mat for 3 months against any manufacturer defects or issues.

We cannot cover normal wear & tear, practitioner neglect to basic care & storage, improper usage, or damage caused by pets. Customer may be responsible for shipping costs. Mats returned will be inspected to determine warranty coverage.

Please contact our customer support at support@asivana.com to start the process of warranty return. 
Can I practice with my Flux cork yoga mat outdoors?

The short answer is definitely, yes.

The long answer is that cork being a natural material will collect dirt and discoloration will occur over time. While it might change colors, the cork will maintain a clean surface to practice on with proper cleaning methods and its natural anti-microbial nature fighting bacteria from growing on your mat.

The natural rubber bottom will inevitably collect dirt and other particulates from practicing outdoors. This won't damage the mat but it will make it dirty.

An easy fix is to make sure the cork mat is dry then take a lint roller or piece of tape and remove the particulates from the natural rubber. This might take you 5 minutes but your mat will be super clean of tiny pieces of debris afterwards.
How do I care for my Flux cork yoga mat?

This question requires a little more depth than I can provide here so I wrote an article that covers how to clean and care for your yoga mat.
Explore the ultimate blend of stability and comfort with our Flux Cork Yoga Mat. Designed for all yoga styles, this high-quality yoga mat offers a superior non-slip grip, ensuring confidence in every pose. Its natural antimicrobial properties keep your mat fresh, making it an excellent choice for yogis with sensitive skin. Crafted for durability, this yoga mat is your companion for countless sun salutations and yoga practices. Sustainability is at the heart of our design, with the use of eco-friendly cork and natural rubber. This sustainable yoga mat is a testament to your commitment to the environment. Discover the benefits of using a cork yoga mat and enhance your yoga practice today. For care instructions and more, explore our page on how to clean a cork yoga mat. Experience the Flux difference – order your cork yoga mat today!
Choosing a selection results in a full page refresh.
Opens in a new window.