Regular price
Sale price
$15 -
Unit price
per
Sale
Sold out
Every Yogi's Essential Tool: Our Inner Hero's Yoga Journal is designed to be an integral part of your yoga journey, aiding in self-study and mindfulness cultivation for practitioners at all levels.
Elegant Linen Cover: The journal's high-quality linen cover is not only durable but also elegantly houses your yoga insights and experiences.
High-Quality Journaling Experience: With 96 lined ivory colored pages, the journal ensures clear, legible entries and prevents ink bleed-through, fostering an inspiring space for your thoughts.
Travel-Friendly Design: Compact and easy to carry, our A5-sized journal is the perfect companion for yogis on the move, fitting effortlessly into your yoga bag or backpack.
Sustainable and Mindful: Each page is made from FSC™ certified paper, reflecting our commitment to sustainable forestry and adding an eco-conscious element to your yoga practice.
Ribbon Bookmark: Stay organized and mark your progress with the journal's convenient, attached ribbon bookmark, allowing for easy reference and continuity in your reflections.
Features

Compact A5 Size: The ideal size for on-the-go journaling, our Asivana Yoga Journal fits effortlessly into your bag, ensuring you always have it with you to capture thoughts, reflections, and intentions.

96 High-Quality Sheets: With ample space to write, our journal contains 96 smooth ivory white sheets, providing you with a pleasant writing experience as you document your yoga journey.

Eco-Friendly FSC Certified Paper: Supporting responsible forestry, our yoga journal uses FSC (Forest Stewardship Certification) certified paper, aligning with your environmentally-conscious values.

Lined Pages for Clarity: Organize your thoughts and insights effortlessly with the lined pages, guiding your writing for improved readability and structure.

Durable Linen Cover: The sturdy linen cover not only adds a touch of elegance to your journal but also ensures its durability, protecting your precious entries from wear and tear.

Convenient Ribbon Bookmark: Never lose your place with the handy ribbon bookmark, allowing you to easily access your most recent entry and continue your mindfulness journey.
Dimensions

A5 Notebook: 5.8" x 8.3" (15 cm x 21 cm)

Weight: 14 oz
Materials

Linen Cover

FSC Certified Sheets
Share
View full details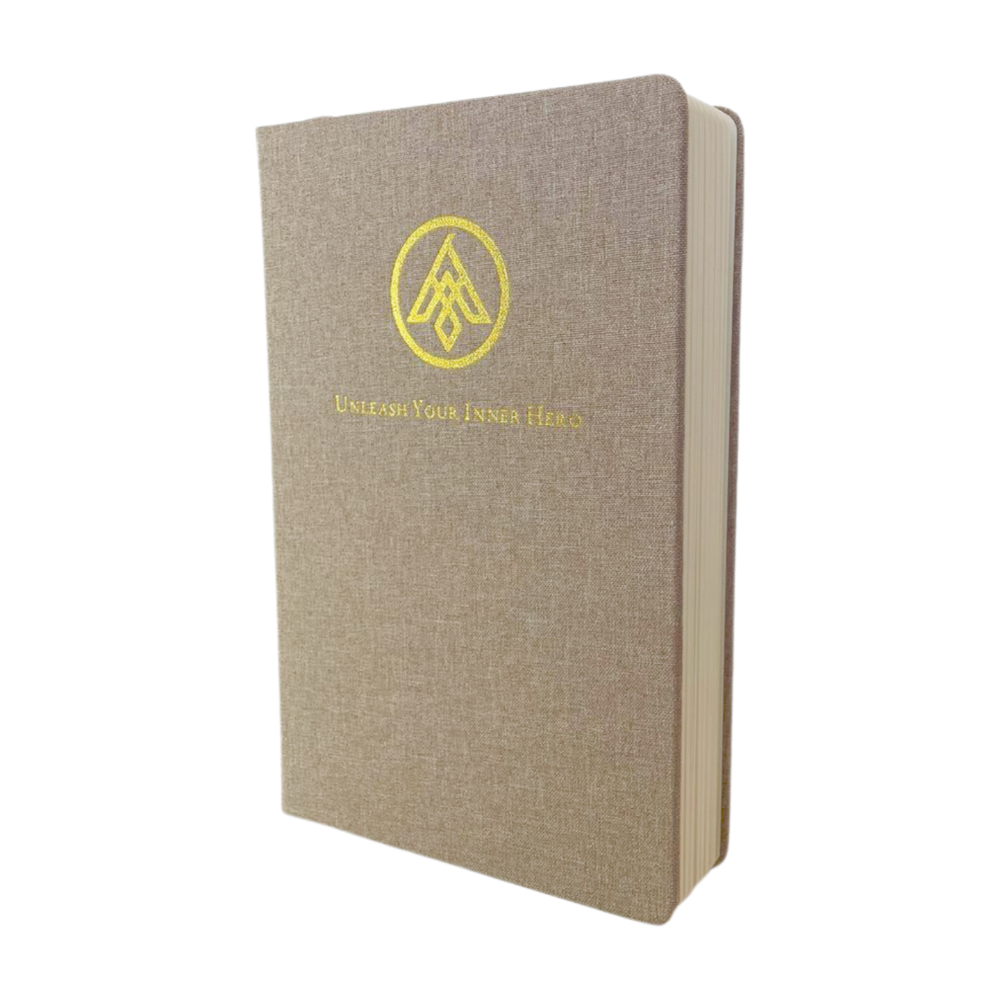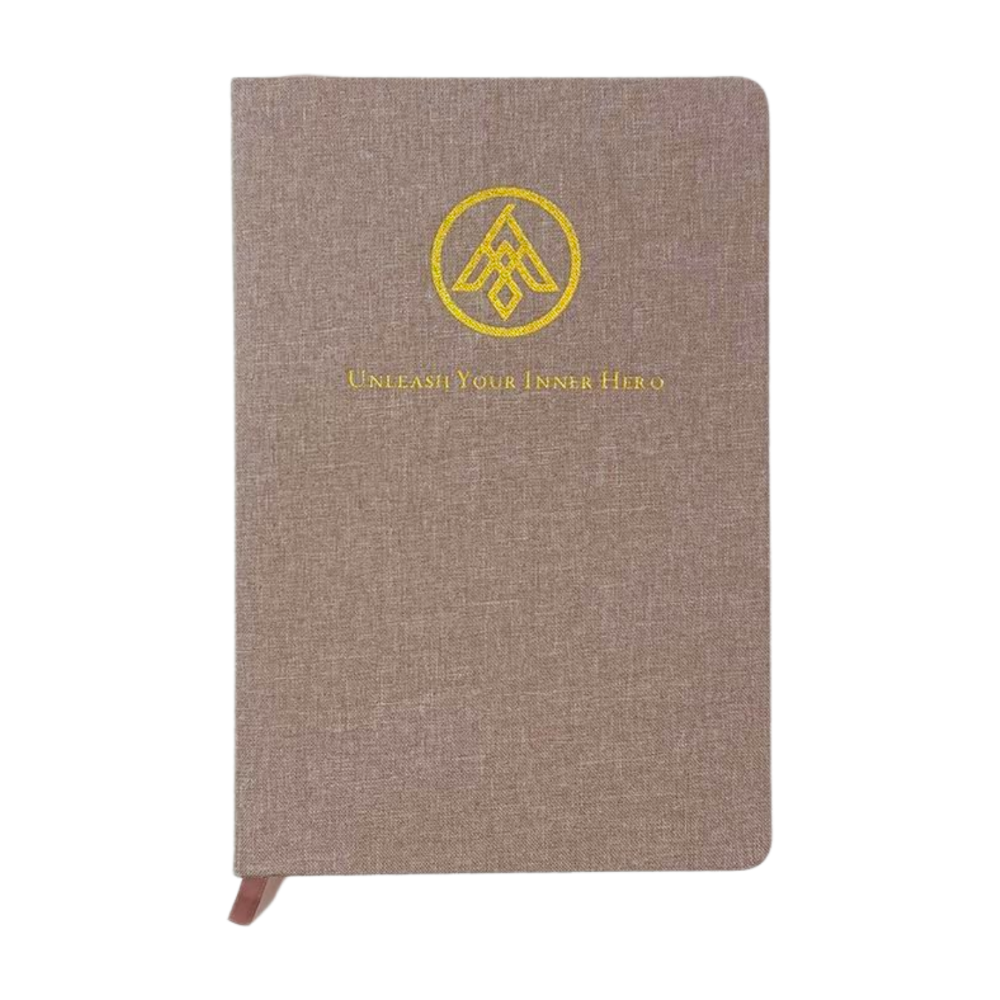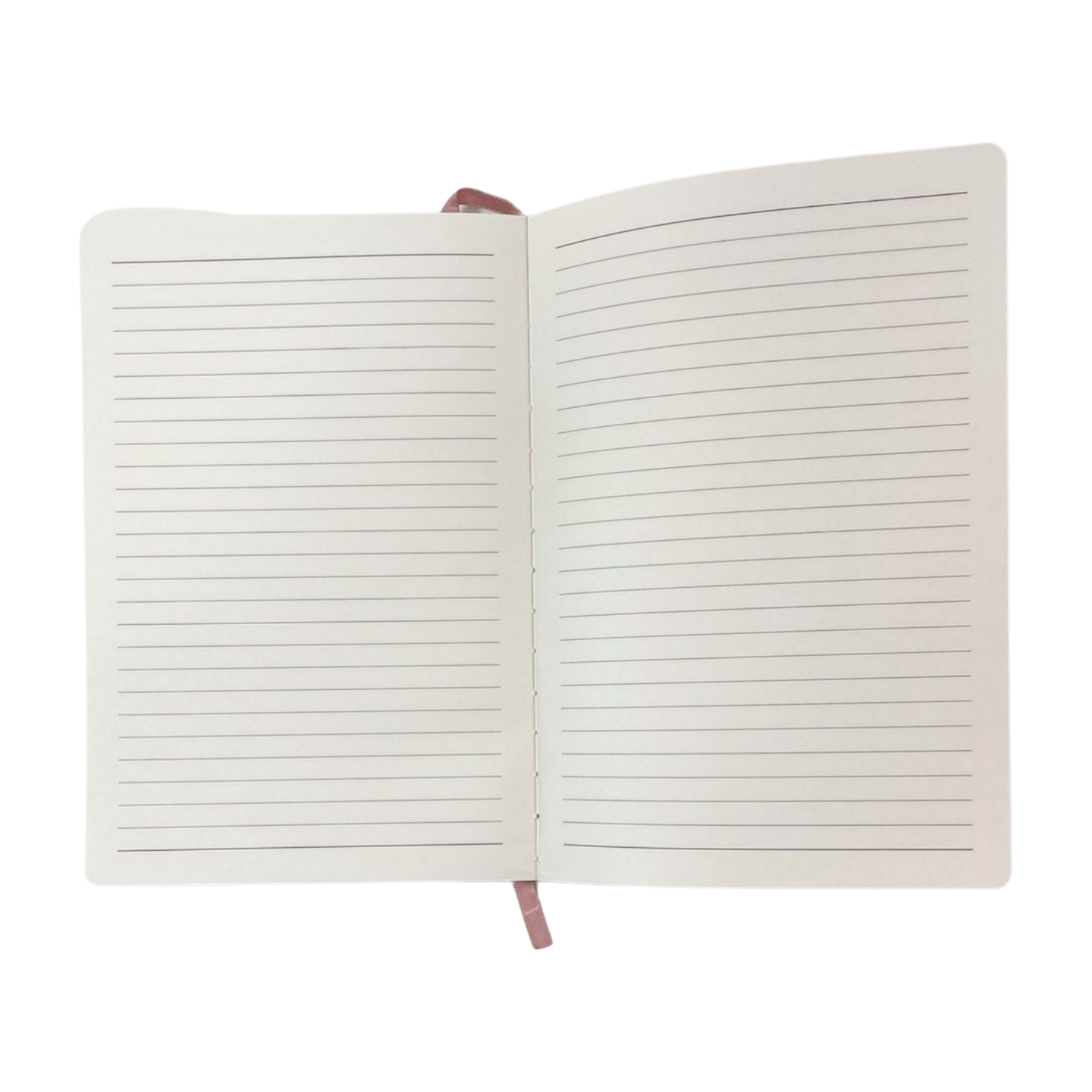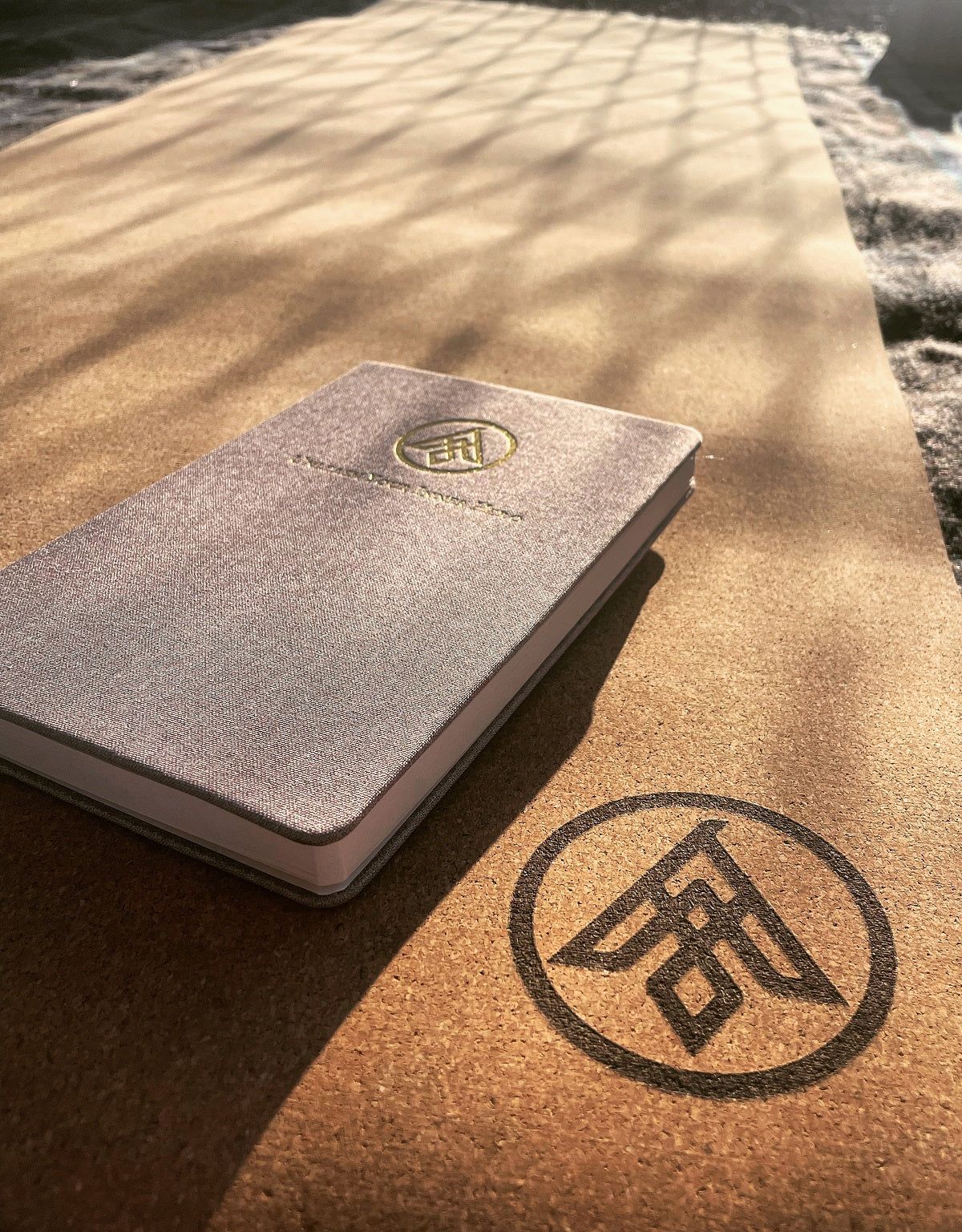 Nurture Your Journey
Share information about your brand with your customers. Describe a product, make announcements, or welcome customers to your store.
Manifest Your Growth ✨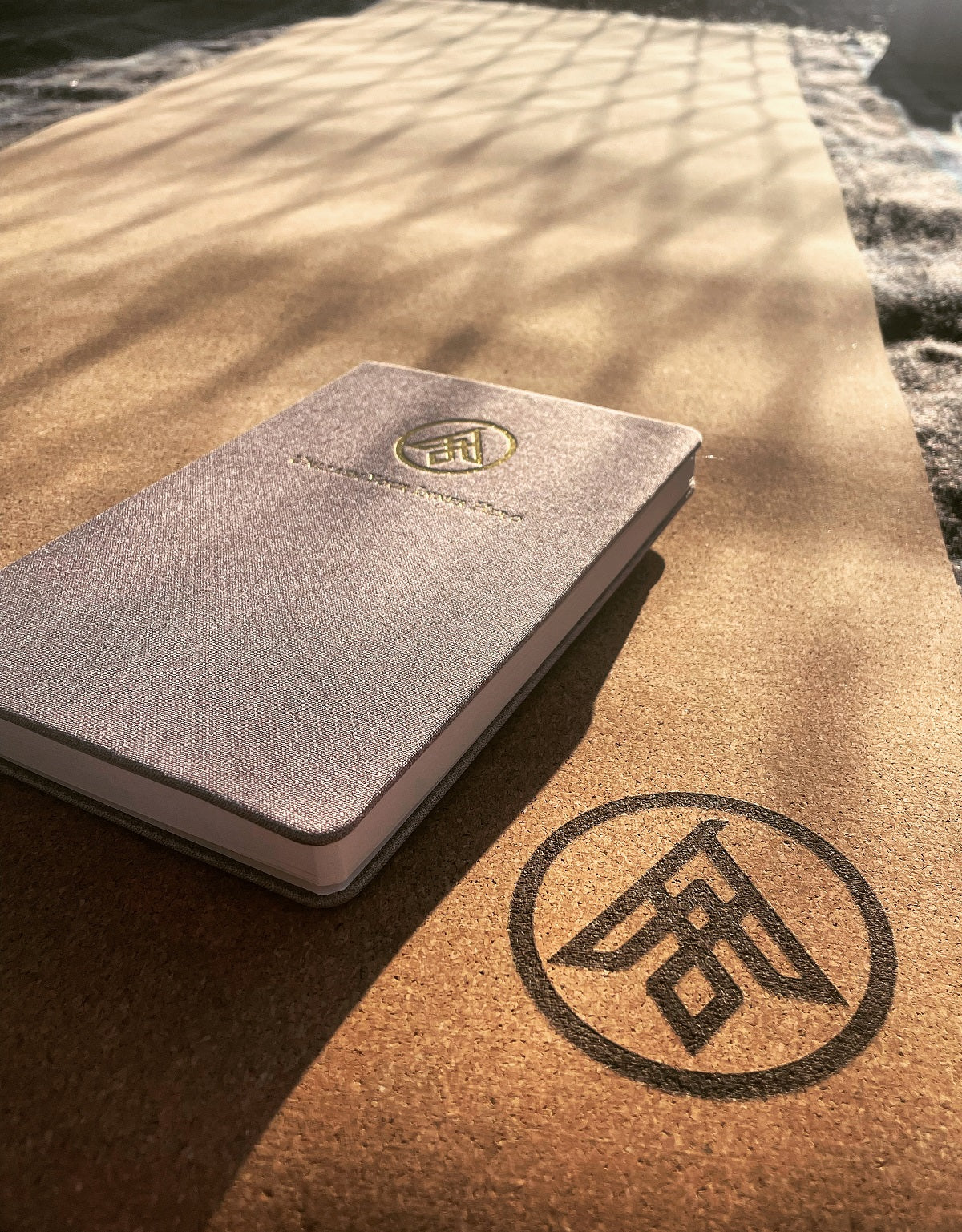 Deeper Connection

Discover the transformative power of journaling, fostering a profound bond with your inner self.
Awareness Amplified

Experience the peace of living in the moment, enhancing mindfulness in every aspect of your practice.
Roadmap to Balance

Record your thoughts, emotions, and insights, guiding your journey towards harmony on and off the mat.
Unleashed Potential

Chronicle your yoga journey, setting intentions, and creating sequences for continuous improvement.
Mindfully Crafted

Embrace the tranquility of your yoga practice, nurturing presence and awareness with every entry.
Embrace Your Hero's Journey
Uncover Insights

Fuel Progress

Unlock Potential
Unlock your inner hero with our Inner Hero's Yoga Journal, the perfect companion for all yogis. This mindfulness journal supports your self-study (Svadhyaya) and helps cultivate mindfulness. With its high-quality linen cover, this journal elegantly safeguards your yoga thoughts and reflections. The compact size makes it ideal for on-the-go journaling, fitting seamlessly into your yoga bag or backpack. Made with eco-friendly FSC certified paper, our journal supports sustainable forestry, enhancing your yoga journey with eco-consciousness. Discover the benefits of journaling and elevate your practice today!